HRW: Syria tortures detainees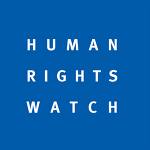 Syrian security and intelligence officials "arbitrarily detained hundreds of protesters," subjecting them to torture, Human Rights Watch said Friday.
Lawyers and journalists who endorsed the anti-regime protests are also among those arrested, said the report, "Activists and Journalists also Arrested and Mistreated."
"There can be no real reforms in Syria while security forces abuse people with impunity," said Joe Stork, deputy Middle East director for the New York organization. "President Assad needs to rein in his security services and hold them to account for arbitrary arrests and torture."
The organization said it had interviewed 19 people who had been detained and several families of detainees in Daraa, Douma, al-Tal, Homs and Banyas. Footage received from activists showed some of the detainees released by the authorities with torture marks on their bodies, the organization said.
The majority of former detainees told HRW they had witnessed dozens of others being beaten or heard screams. Three children said they had seen other children being arrested and beaten.
Those former detainees said they were subjected to torture, including electric shock, cables and whips, and were held in overcrowded cells, and deprived of food and sleep for several days. Some said they were blindfolded and cuffed throughout their detention.
The majority said they were forced to sign confessions without being permitted to read them and also had to sign a pledge promising to refrain from participating in protests in the future, the organization said.