Lebanon's Coalition Soap Opera Marks 11 Weeks
Hariri can't get used to being out of power. Hezbollah is anxious to avoid exercising the power, while Mikati wants to make it look like he's in charge, even if he's not.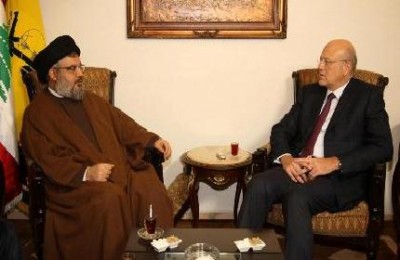 By David Rosenberg
Former Prime Minister Saad Hariri can't get used to being out of power. Hizbullah is anxious to avoid exercising the power it has while Prime Minister-designate Najib Mikati wants to make it looks like he's in charge, even if he's not. And so, 11 weeks of coalition talks have yet to produce a government in Lebanon.
Mikati, a Sunni Muslim billionaire businessman with little political experience, has been struggling since January 25 to piece together a cabinet from a disparate group of parties led by Hizbullah. The latest setback for him occurred on Tuesday when Michel Aoun, a key member of the prospective government, denied Mikati's claim that the parties were close to terms on the line-up for the next cabinet.
"It's really a soap opera," Sami Hermez, visiting fellow, Centre for Lebanese Studies, told The Media Line. Like other observers, he blames the delays on the failure of any party, including the powerful militia-cum-political party Hizbullah, to take charge. "If there was someone calling the shots, we would have had an agreement. You don't have a strong man – you have strong men."
Ostensibly a purely domestic issue, the outcome for the talks is important for the U.S. and Middle Eastern powers led by Saudi Arabia and Egypt, as they try to contain Iran's bid to dominate the region. Iran backs Hizbullah, whose members share its Shiite faith, while the West regards Hariri and his March 14 coalition as allies.
Lebanon's fractious internal politics complicate matters. The Hizbullah-led March 8 coalition, which will form the backbone of the Mikati government, comprises 15 parties, including Christians, Shiites, Sunnis, Druze and even communists. Their rival, Hariri's March 14, counts 12 factions, also ranging over a wide political and religious spectrum.
Hizbullah toppled Hariri's national unity government on January 12, after he refused to back down on supporting a United Nations probe into the 2005 assassination of his father, Rafik. Although their findings haven't yet been released, investigators for the Special Tribunal for Lebanon (STL) are expected to name key Hizbullah officials as responsible for the killing.
Although many in the West, as well as Lebanon's neighbor Israel, worry about Hizbullah turning Lebanon into an Islamic republic modeled on Iran. Analysts said they see no sign that the movement wants to exercise control over the country at all. Rather it wants to protect itself from the consequences of an STL indictment and ensure the government does nothing to disarm its fighters.
Aside from being a political party with 12 seats in parliament, Hizbullah operates an armed force with more firepower than the Lebanese army and reportedly tens of thousands of rockets.
"One of the reasons they are dragging their feet is that they don't want to take responsibility for the government," Eugene Richard Sensenig-Dabbous, who chairs the political science department at Notre Dame University in Lebanon, told The Media Line. "They are more interested in keeping the status quo because that serves their interest. "
To accomplish that, Hizbullah wanted to ensure it has a blocking two-thirds majority in the cabinet. The other is to control the Interior Ministry.
The movement appears to have backed down on the two-thirds majority demands – Mikati is proposing a massive 30-person cabinet with no more than 19 seats reserves for Hizbullah and its closest allies – but Hizbullah is holding out for control of the Interior Ministry.
Mikati, meanwhile, has to give the impression that he is control. A Sunni Muslim with no political base of his own, he was nominated by the Shiite Hizbullah movement. When he started out on the long march toward forming a cabinet, Mikati got broad backing from parliament.
But that was on the assumption that he would keep to his word and form a "consensus" government that included both March 8 and March 14, said Heiko Wimmen, researcher at the German Institute for International and Security Affairs. Mikati spent weeks trying to keep March 14 in the coalition but failed, leaving him in the uncomfortable position of heading a government dominated by Shiites and Christians. Wimmen said most Sunnis back Hariri, who is now in the opposition.
"Mikati obviously doesn't want to be seen as March 8's puppet. And, it's not really in March 8's interest to let him appear that way either," Wimmen said, adding the Hizbullah is worried about creating a Sunni-Shiite split in Lebanon. "It's a deep-seated fear of fitna," he said, using the Arabic word for strife.
Hariri has also played a role in prolonging the talks. After dropping out of negotiations, he launched a fusillade of attacks on Mikati and Hizbullah. He has discouraged March 14 supporters from joining the Mikati cabinet as independents. Last week, he set off a sharp exchange of words after warning that Hizbullah and its allies were determined to turn Lebanon into an "Iranian protectorate."
"March 14 is refusing play the role of a normal opposition. They should do the usual work of the opposition, criticizing on transportation and education policy, and so on," said Sensenig-Dabbousof Notre Dame. "But they don't want to play according to democratic rules, so they are blaming Iran."
In response to Hariri's remarks, Hizbullah fired back, accusing Hariri of being in America's pocket. His "provocative attitudes against the Islamic Republic of Iran faithfully reflect the latest attitudes of U.S. Defense Secretary Robert Gates" and "deflect the struggle from its original direction with the Israeli enemy."
But analysts said Lebanese politics have remained largely aloof on the bigger drama of the Arab world, where a long-simmer conflict between Sunni Saudi Arabia and Shiite Iran has boiled over since Riyadh deployed troops in Bahrain to quell a Shiite led rebellion.
"It's just scare tactics from the fear that Hizbullah is going to take over," Hermez of St. Anthony's said. "They do have weapons so I understand there are fears, but they aren't more than that."