Houri: The Lebanese expats paid the price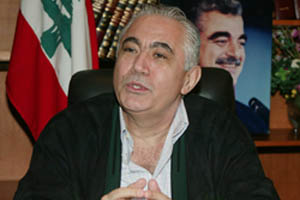 March 14 MP Ammar Houri said on Monday that the Lebanese expatriates in Bahrain paid the price of Hezbollah's interference in the internal affairs of the country .
"What were the consequences? Did this not result in the deportation of Lebanese from Arab states?" he asked during an interview with New TV.
In comments to newspapers published Monday, Lebanon's ambassador to Bahrain Aziz Qazzi confirmed that more than a dozen Lebanese working in Bahrain have been ordered to leave the country following Nasrallah's public support for protests on the island.
Houri said Hezbollah Secretary General Sayyed Hassan Nasrallah interfered in Bahraini domestic politics by supporting one group against the other.
Houri asked :"Did March 14 interfere in the Syrian internal affairs ? Our stance was one of non-interference in the domestic affairs of any state because we demand non-interference in ours."
Addressing the relations between Lebanon and Bahrain , Caretaker PM Saad Hariri said last Wednesday:
"We're working together with our brothers in the Gulf, especially with our Bahraini brothers, to end the repercussions of the irresponsible and unjustified political alignment which has nothing to do with Lebanese patriotism or Arab nationalism. It's rather part of the Iranian plot which I have described as an attempt to dominate Lebanon and the Arab region."
He was reportedly referring to the travel ban imposed by Bahrain against travel to Lebanon when Hezbollah openly sided with the protesters against the government . Bahrain branded Hezbollah a "terrorist organization".
Bahrain interior minister Sheikh Rashed bin Abdullah al-Khalifa linked Hezbollah to the protests during his address to the parliament on March 29
He accused the predominantly Shiite protesters of being linked to" the Iranian-backed Hezbollah, "as proven by the demonstrators' methods as well as statements of support from the Lebanese Shiite group and Tehran."
"All this reveals a link and the training style of Hezbollah," the interior minister said.
Kuwaiti newspaper As-Seyyasah reported last month that the Gulf Cooperation Council (GCC) states are heading toward "making a collective decision to expel all Lebanese Shiites who are connected to Hezbollah and the Iranian Revolutionary Guard."
" These states received proven reports from Bahraini, French, and US intelligence that Hezbollah and the Iranian Revolutionary Guard members are, along with local religious figures, leading the protests in Bahrain and eastern Saudi Arabia," the daily quoted an anonymous Arab diplomat as saying.
Update: Lebanon's Ambassador to Bahrain Aziz Qazzi told Free Lebanon radio that the Lebanese expatriates who were expelled from Bahrain are not affiliated with any parties, but they are hard workers whose main concern is supporting their families.