Thousands rally in Lebanon against the sectarian system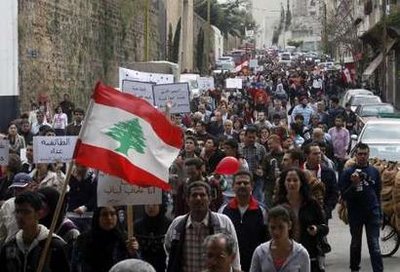 Thousands of Lebanese rallied in Beirut on Sunday against the  sectarian system of power-sharing which they blame for the majority of problems in Lebanon
The protesters marched for three hours from the national museum to the center of the capital, chanting "revolution against the regime, against corruption."
"People want the fall of the regime," and "We do not want confessionalism or civil war," cried others.
Security forces prevented them from entering Place de l'Etoile, the square where parliament is located.
"No to quotas, no to political dynasties" and "one civil status for all" read the banners deployed in the demonstration which was organized by young activists demanding an end to the confessional system in Lebanon.
The rally's organizers said they were free of any political affiliation after the Amal Movement and other parties organized along sectarian lines expressed support for the youth movement.
The organizers have set up a tent in front of the Interior Ministry.
Sunday's protest was the third organized against the sectarian system by a broad coalition of civil society, political and youth organizations. Protesters carried signs and shouted slogans demanding the "overthrow of the regime," echoing the rallying cry of the Tunisian and Egyptian uprisings.
Lebanon's system of government is rooted in a 1943 power-sharing agreement along confessional lines adopted after the country won its independence from France.
Aimed at maintaining a balance between Lebanon's 18 religious sects, the agreement calls for the president to be a Christian Maronite, the prime minister to be Muslim Sunni and parliament speaker a Muslim Shiite. Critics say the confessional power-sharing agreement allows a small elite to dominate politics, dividing the spoils of the state among themselves and weakening the government while strengthening the systems of patronage that keep them in power.