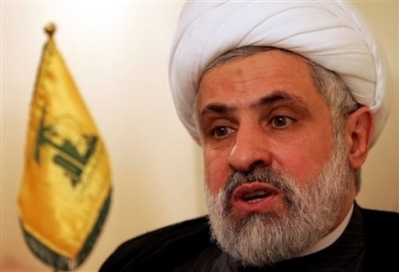 Hezbollah Number 2 leader Sheikh Naim Qassem on Saturday accused March 14 of aiming to cause chaos and destroy Lebanon because they are no longer in power.
"Lebanon could not hold its head up and become the center of attention if not for the Resistance," a statement issued by Hezbollah quoted Qassem as saying.
"The March 14 administration failed because it incited tension in Lebanon and prioritized sectarian interests over national ones," Qassem added.
Qassem called for speeding up cabinet formation " since further delay is harmful on the moral and the practical levels."
Qassem's comments come after Caretaker PM Saad Harir on Thursday slammed what he called Iran's "flagrant intervention" in Lebanese and Arab affairs, saying his country will not be an Iranian protectorate.
Hariri accused Iran of meddling in Lebanon, Bahrain and Kuwait and added this is "not acceptable anymore."
On Wednesday Hariri slammed Hezbollah and its arms :
"Our project is to end the mandate of illegitimate arms, including Hezbollah's weapons, in the political life in the country ."
Hariri added that " non-state arms are aimed at bullying the State."
However, he said that the resistance is "a Lebanese right…that should come from within the state."
" It is unacceptable to violate the constitution and threaten the Lebanese under the pretext of resistance." Hariri stressed
Addressing the relations between Lebanon and Bahrain , he said:
"We're working together with our brothers in the Gulf, especially with our Bahraini brothers, to end the repercussions of the irresponsible and unjustified political alignment which has nothing to do with Lebanese patriotism or Arab nationalism. It's rather part of the Iranian plot which I have described as an attempt to dominate Lebanon and the Arab region."
This was a possible reference to the travel ban imposed by Bahrain against travel to Lebanon when Hezbollah openly sided with the protesters against the government . Bahrain branded Hezbollah a "terrorist organization".
Iranian Foreign Ministry spokesman Ramin Mehmanparast responded to Hariri's attacks by saying: "Hariri's position on Iran is deceptive", adding that" it is not in Lebanon's interest and threatens stability of the region".
The unrest in Bahrain, which erupted in February, has played out against the region's deep rivalries between Shiite and Sunni Muslims. Protesters from Bahrain's Shiite majority have demanded that the kingdom's Sunni minority rulers grant them equal rights and a political voice.
Saudi Arabia, a largely Sunni nation, has rushed to the aid of Bahrain by sending in troops, while other Gulf countries have accused predominantly Shiite Iran of meddling in Bahrain's affairs by trying to stir Shiite unrest there.
Wilayat al Faqih
MP Walid Jumblatt told the An Nahar newspaper in remarks published on Saturday: "Based on my experience with Hezbollah and the Shiite sect, Hariri must understand the party's cultural and ideological structure and its connection with Wilayat al-Faqih ( Iran's supreme leader ) ."
With reference to Hezbollah arms he said :
"Hariri and others must realize that these arms are aimed at protecting the residents of the South."