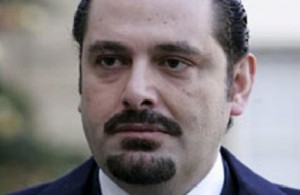 Iran should stop interfering in the affairs of the Arab states and sowing discord among their peoples. It should also respect the principles of good neighborliness, Lebanese Caretaker PM Saad Hariri's press office said in response to the criticism by Iran's foreign ministry
Iranian Foreign Ministry spokesman Ramin Mehmanparast responded to Hariri's earlier attacks by saying: "Hariri's position on Iran is deceptive", adding that" it is not in Lebanon's interest and threatens stability of the region".
Hezbollah and its Iranian backers came under attack by caretaker PM Saad Hariri during the past couple of days
Hariri on Thursday slammed what he called Iran's "flagrant intervention" in Lebanese and Arab affairs, saying his country will not be an Iranian protectorate.
Hariri accused Iran of meddling in Lebanon, Bahrain and Kuwait and added this is "not acceptable anymore."
Hezbollah responded by saying :Hariri's positions were in harmony with the aims of the U.S. — to sow divisions and strife between the countries and people of the region."
On Wednesday Hariri slammed Hezbollah and its arms :
"Our project is to end the mandate of illegitimate arms, including Hezbollah's weapons, in the political life in the country ."
Hariri added that " non-state arms are aimed at bullying the State."
However, he said that the resistance is "a Lebanese right…that should come from within the state."
" It is unacceptable to violate the constitution and threaten the Lebanese under the pretext of resistance." Hariri stressed
Addressing the relations between Lebanon and Bahrain , he said:
"We're working together with our brothers in the Gulf, especially with our Bahraini brothers, to end the repercussions of the irresponsible and unjustified political alignment which has nothing to do with Lebanese patriotism or Arab nationalism. It's rather part of the Iranian plot which I have described as an attempt to dominate Lebanon and the Arab region."
This was a possible reference to the travel ban imposed by Bahrain against travel to Lebanon when Hezbollah openly sided with the protesters against the government . Bahrain branded Hezbollah a "terrorist organization".