A powerful earthquake off the northeast coast of Japan shook a large area late Thursday. The jolt appeared to be an aftershock from the catastrophic earthquake and tsunami that hit Japan nearly four weeks ago.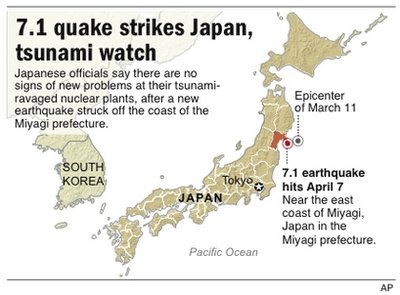 The earthquake generated a tsunami warning, and Japan's NHK television immediately warned residents in the area to move to higher ground, but there were no immediate reports of major disruptions in the ocean.
The earthquake and tsunami alert raised fears about possible effects at the damaged Fukushima nuclear reactor, which has been leaking radio since the original earthquake.
The Tokyo Electric Power Company said it had no reports of any new damage or casualties near the reactor site caused by Thursday's earthquake, which hit shortly before midnight (at 1432 UTC). The aftershock was initially recorded at magnitude 7.4, but the U.S. Geological Survey later downgraded the jolt to magnitude 7.1 – still a powerful earthquake overall, but far less dangerous than the 9.0-magnitude shock on March 11.
Speaking at a news conference, a TEPCO official said water-pumping operations were continuing to keep the nuclear plant's fuel rods from overheating to a dangerous degree. Workers at the plant have been struggling to bring the nuclear reactors under control for the past three weeks.
Seismologists reported Thursday's quake hit about 40 kilometers below the surface of the sea, at a point roughly 66 kilometers east of the city of Sendai. VOA