Hariri: Our aim is to bring the state back to Lebanon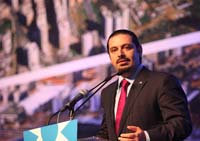 Caretaker Prime Minister Saad Hariri said on Wednesday during a speech at Biel that the March 14 coalition's "return to the cabinet is out of the question" and dismissed rumors that he is visiting foreign countries as part of an effort to join PM-designate Najib Mikati's upcoming government.
"For now, our political program is not to return to the cabinet, but to return the state back to Lebanon and the arms back to the state," Hariri said during his speech at a dinner that was hosted by Lebanese Forces and Future Movement engineers
"Our project is to end the mandate of illegitimate arms, including Hezbollah's weapons, in the political life in the country ."
Hariri added that " non-state arms are aimed at bullying the State."
However, he said that the resistance is "a Lebanese right…that should come from within the state."
" It is unacceptable to violate the constitution and threaten the Lebanese under the pretext of resistance." Hariri stressed
Addressing the relations between Lebanon and Bahrain , he said:
"We're working together with our brothers in the Gulf, especially with our Bahraini brothers, to end the repercussions of the irresponsible and unjustified political alignment which has nothing to do with Lebanese patriotism or Arab nationalism. It's rather part of the Iranian plot which I have described as an attempt to dominate Lebanon and the Arab region."
This was a possible reference to the travel ban imposed by Bahrain against travel to Lebanon when Hezbollah openly sided with the protesters against the government . Bahrain branded Hezbollah a "terrorist organization".
Addressing the situation of the Lebanese expatriates in Ivory Coast (Côte d'Ivoire) he said :
"We have been exerting efforts, together with Lebanon's friends, to rescue our people in Ivory Coast from the consequences of the foolish political decisions taken without the State's consent."
This was a possible reference to the meddling in the internal affairs of Ivory Coast by the Lebanese ambassador Ali Ajami.
The Lebanese expatriate in Côte d'Ivoire reportedly came under threat after Lebanon's ambassador meddled in the internal affairs of the country by attending the swearing-in ceremony of Laurent Gbagbo, the controversial strongman who has refused to step down despite rival Alassane Ouattara being internationally recognized as having won the country's elections.