Assad takes more steps to appease Kurds
Syria's leader issued a decree on Thursday granting nationality to people in the eastern al-Hasaka region where many Kurds live, part of efforts to ease resentment over nearly five decades of strict Baathist rule.
It was not immediately clear how many would be given nationality, but at least 150,000 Kurds are registered as foreigners as a result of a 1962 census in al-Hasaka.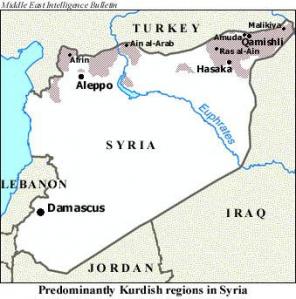 But Kurdish leader Habib Ibrahim said Kurds would press their non-violent struggle for civil rights and democracy to replace autocratic rule despite President Bashar al-Assad's decree.
"Our cause is democracy for the whole of Syria. Citizenship is the right of every Syrian. It is not a favour. It is not the right of anyone to grant," Ibrahim, who heads the Democratic Unity Kurdish Party, told Reuters.
State television said that Assad had fired the governor of Homs province, one of the areas affected by nearly three weeks of protests calling for greater freedoms. Replacing the governor was one of the main demands of protesters last week.
In another move to appease the ethnic Kurds, Syrian Observatory for Human Rights said 48 Kurds were released on Tuesday, more than a year after they were arrested in the eastern city of Raqqa.
Assad also met provincial leaders from the Kurdish east of the country earlier in the week to listen to their demands, the official news agency reported.
Assad cracked down on ethnic Kurds, who make up about 10-15 percent of Syria's 20 million people, when they launched violent demonstrations against the state in 2004.
Once unthinkable popular protests have shaken mainly Sunni Muslim Syria for nearly three weeks, with demonstrators demanding an end to emergency law and one-party rule by the Baath Party.
Syria's ruling hierarchy, packed with minority Alawites, has tolerated no dissent and has used emergency laws to justify arbitrary arrests, including those of other minorities such as Kurds who say they are discriminated against.
In a move to mollify conservative Muslims, Syria also lifted on Wednesday a ban on teachers wearing the full face veil and ordered the closure of the country's only casino.
The pro-democracy protests first erupted in the southern city of Deraa, where many Sunni Muslim tribes resent the power and wealth accumulated by the Alawites, an offshoot sect of Shi'ite Islam.