Rai: The Lebanese impatiently waiting for a government
Prime Minister-designate Najib Mikati held a meeting with the Lebanese spiritual leaders at his house in Verdun during which he stressed their role in" bridging the difference between the Lebanese in order to save Lebanon from the current crisis "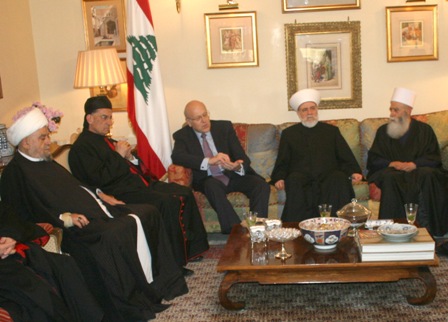 The meeting was attended by a number of spiritual leaders, including Maronite Patriarch Beshara al-Rai, Grand Mufti Mohammad Rashid Qabbani,Vice President of the Higher Shiite Islamic Council Abdel Amir Qabalan, and Druze Sheikh el Akl Naim Hassan in addition to several high ranking spiritual authorities
He told the leaders that his efforts in forming a government that can confront major problems are ongoing.
"The key to settling political disputes lies in implementing the constitution … in a way that would ensure that no side eliminates the other," Mikati said.
Mikati stressed that partnership cannot exist without trust and understanding.
The spiritual leaders commended Mikati on his efforts to form the government and called on political leaders to "facilitate his mission and ease their conditions over the formation of the cabinet."
The newly elected patriarch Rai Addressed Mikati by saying: "We understand the difficulties and problems you are facing , but we also appreciate your patience and concern to carry out your task within the constitution."
He assured Mikati that the spiritual leaders are praying for him:
"We assure you that we are praying that you achieve your goals and are successful in forming a government that all the Lebanese are impatiently awaiting." He said and added
" The Lebanese people can no longer bear the current situation and want to see a government soon that can handle their affairs "