Caretaker Prime Minister Saad Hariri on Monday called Jordanian King Abdullah II to request the help of Jordanian troops deployed as part of the United Nations Operation in the Ivory Coast (UNOCI) to help the Lebanese expatriates in the country.
This comes after Hariri was notified that the French troops in Abidjan's airport are ready to secure a safe landing for the Middle East Airlines (MEA) planes to evacuate the Lebanese expatriates who wish to leave the Ivory Coast , according to a statement issued by Hariri's office.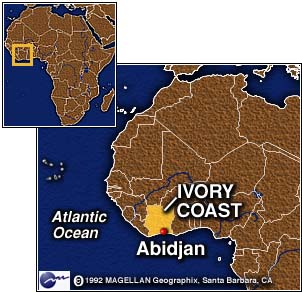 Hariri also contacted the CEO of MEA, Mohammad al-Hout, and asked him to accelerate the sending of planes to Abidjan to resume the evacuation of the Lebanese expatriates.
A Lebanese expatriate from al-Basma family was killed in Abidjan and his companion Mustapha Haidar and seven others were injured, one critically, in random gunfire shots, LBC television reported on Monday.
The Lebanese expatriate in Côte d'Ivoire reportedly came under threat after Lebanon's ambassador attended the swearing-in of Laurent Gbagbo, the controversial strongman who has refused to step down despite rival Alassane Ouattara being internationally recognized as having won the country's elections.
Thousands of Lebanese in Ivory Coast are reportedly living in fear as the West African nation plunges further into a catastrophic civil war, but evacuation efforts thus far have only managed to rescue a few hundred people.
Voice of Lebanon VOL reported yesterday that Lebanese ambassador in Abidjan contacted resigned caretaker minister of foreign affairs Ali al Shami and advised him that 27 Lebanese were evacuated Sunday from the war torn city
It is estimated that tens of thousands of Lebanese expatriates live n the Ivory coast . They are reportedly the largest Lebanese diaspora community in West Africa and the majority emigrated from south Lebanon during the Lebanese civil war.