Syrian opposition urges investigation of prison fire that killed 8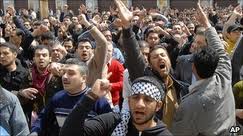 A prison fire that left eight dead in Syria on Monday prompted calls by an opposition group for an international investigation as tension continued after weeks of unrest.
Eight inmates were killed and two policemen injured when a prisoner set fire to a mattress in his his cell at the Latakia Central Prison, official sources said.
It was not immediately clear if the fire was related to the unrest, which has seen protesters call for reforms and for President Bashar al-Assad to step down.
The US-based Reform Party of Syria said they believe the prisoners in Latakia Central Prison died under torture.
'We urge the United Nations to investigate or many Syrians will be killed in the coming days in mysterious and planned ways,' said the group in a statement.
The opposition group also said that communications continue to be cut off in Daraa, Latakia, and Homs, where some of the deadliest protests have taken place since the uprising began onMarch 15.
Activists, who have also been using Facebook to organize protests, called for a boycott Tuesday of mobile phone operators and internet providers.
Some opposition activists have blamed the government for the ongoing frequent lack of mobile phone connections and internet services, which remained blocked in Damascus on Monday.
The Syrian state news agency SANA reported that al-Assad swore in Daraa's new governor, Mohammed Khalid al-Hanous, after dozens of people had been killed in the southern Syrian city during the past two weeks of unrest.
Meanwhile, Syrian opposition activists on Monday called on the military and security forces to support anti-government protesters in the face of government crackdowns.
'To all security and army officers, I say these are your families who seek freedom and an end to injustice. We urge you to stand by them,' activists wrote on the Syrian Revolution 2011 Facebook page.
'Do not oppress your people and their will, because you are part of them,' the activists said.
Last week, thousands took to the streets to express their support for al-Assad, who has blamed 'foreign conspirators' for the unrest.
On Sunday, al-Assad named former agriculture minister Adel Safar as the new prime minister and tasked him with forming a new cabinet. m&c