Gaddafi sends envoy to Greece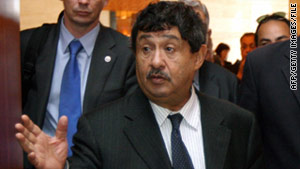 Libyan Deputy Foreign Minister Abdelati Obeidi flew to Greece on Sunday to deliver a personal message from Libyan leader Moammar Gadhafi, a Greek foreign ministry official told CNN.
Libya asked Greece to allow a special envoy to travel there to communicate a message, Greek foreign ministry spokesman Grigoris Delavekouras said.
The nature of that message was not immediately known.
The Greek prime minister spoke with his counterparts in the United Kingdom, Qatar and Libya before Sunday's flight, he said.
It was unclear how long Obeidi, the envoy, would remain in Greece, he said.
Obeidi is the Libyan deputy foreign minister in charge of European affairs.
The envoy crossed the Libyan border into Tunisia Sunday morning, and from there boarded a private Greek plane for Athens. CNN