Mikati is optimistic over cabinet formation despite obstacles
Lebanon's PM -designate Najib Mikati said Saturday that he is optimistic over the progress that has been achieved so far over the formation of the new government but stressed that there are still difficulties that he will have to overcome before a cabinet is formed
" For me , I am optimistic , the atmosphere is positive … I will continue to work on overcoming difficulties," Mikati said during a meeting of the Higher Islamic Council at Dar al-Fatwa which was chaired by Grand Mufti of the Republic Sheikh Mohammad Rashid Qabbani.
"Cabinet formation is taking place constitutionally and obstacles are being addressed, he said adding , "we have made progress but this does not mean that we are close to forming" the cabinet."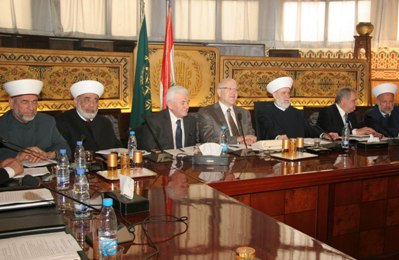 Mikati attended the meeting in his capacity as a council member, NNA report adding that all present and past premiers are members.
Cabinet formation is reportedly being hampered by the demands of Change and Reform bloc leader Michel Aoun's and Hezbollah.
Aoun has reportedly been insisting on a 40 % share in the cabinet which should include the ministry of interior and defense and does not want president Suleiman to have any share. Hezbollah on the other hand is demanding that Faisal Karami , son of former PM Omar Karami should represent the Sunnis in the cabinet .
The Iranian and Syrian -backed Hezbollah brought down PM Saad Hariri's government on January 12 over the Special Tribunal for Lebanon's (STL) imminent indictment which is widely expected to implicate Hezbollah members in the assassination of former PM Rafik Hariri in 2005.
Mikati was appointed in January as the PM designate with the backing of the Hezbollah March 8 alliance and MPs Walid Jumblatt and Mohammad Safadi. March 14 leaders have repeatedly said that intimidation from Hezbollah's weapons helped secure the parliamentary majority for Mikati's nomination.
March 14 parties have announced that they will not take part in the cabinet Mikati is currently forming, and Hariri vowed to fight the use of non-state weapons "peacefully and democratically."