Golan Druze rally in support of Syrian regime, report
About 2,000 Druze in the Israeli-occupied Golan Heights rallied on Saturday in support of Syrian President Bashar Al-Assad, Israeli news website Ynet reported.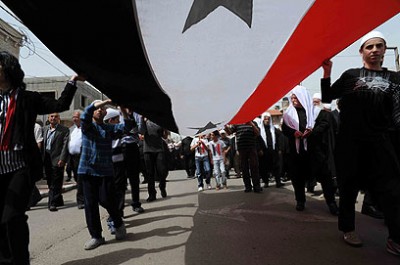 Ynet reported that marchers in the village of Buqata carried giant Syrian flags and portraits of Al-Assad, whose security forces have been dealing harshly with protesters who are demanding freedom and political reform . Over 75 Syrian protesters have reportedly been killed since the uprising erupted .
"We came out today to support the leader of our homeland, whom people are trying to hamper in running the country," Ynet quoted Golan resident Yosef Safdi as saying.
In the Golan Heights, which Israel occupied in the 1967 Middle East war and unilaterally annexed it in 1981, there are about 20,000 Syrian nationals, mostly of the Druze faith .
According to Golan Heights observers the rally by the Druze was a vote against the occupation of the Golan Heights by Israel more than a vote for Assad . One observer told Ya Libnan, unlike the Alawites the Druze refused the Israeli citizenship following the 1981 annexation of the Golan Heights by Israel. He said" the Druze of Golan still consider themselves Syrian citizens and are therefore suspicious that Israel may be behind the protests against Assad. In their rally today they are trying to send a message to Israel:" We would rather live under an Arab dictatorship than under an Israeli occupation "
One observer was told by one of the protesters :
"We are with him (Assad) because to support him is to support Syria and we are Syrian citizens, not Israeli citizens.