Rai: One-sided government violates the constitution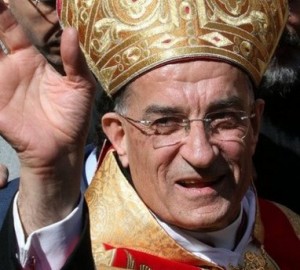 The delay in cabinet formation as a result of an internal dispute within the March 8 alliance prompted the newly elected Maronite Patriarch Beshara al-Rai to say that the Lebanese people can no longer accept this delay.
Rai said: "Everything has stopped functioning … Political and legislative life has been halted."
"If the political powers fail to reach an agreement on the distribution of portfolios then a technocrat government should be formed, at least on a temporary basis in order to handle the country's affairs until politicians agree on a method of fair participation in governing" he said " National News Agency quoted Rai as saying.
"A one-sided government should not be formed" because it violates the constitution, the patriarch stressed.
Commenting on Bkirki's role the outspoken patriarch said :
"Bkirki is a Christian and national authority and no one can question this."
Commenting on the problems within the Christian community he said:
"WE should all be united in Lebanon..the Christians should be also united and should stop this bickering amongst themselves . We live in a democratic country and we should not have disputes because our principles should unite us "
His comments come following reports of the failure of the March 8 to agree on a final lineup for the new cabinet .
Free Patriotic Movement leader MP Michel Aoun reportedly rejected a cabinet formation proposed by Prime Minister-designate Najib Mikati that would give the FPM seven ministers, Al-Hayat newspaper reported on Wednesday.
In a meeting involving negotiators from the Hezbollah-led March 8 parties at Mikati's house on Tuesday, Mikati proposed a 30-seat cabinet in which March 8 would have 19 ministers, and Mikati, President Michel Suleiman, and Progressive Socialist Party leader MP Walid Jumblatt would have 11, Al-Hayat quoted an anonymous source as saying.
Mikati's proposal allocates 13 portfolios for Aoun's Change and Reform bloc broken down as follows:
2 for the Marada Movement
2 for the Tashnak Party,
1 for the Lebanese Democratic Party,
1 for the Syrian Social Nationalist Party
7 for FPM
Aoun reportedly rejected the offer and is insisting on a blocking third for FPM alone…in other words he wants 4 more for the bloc a total of 17 out of 30
Aoun also continues to refuse that Interior Minister Ziad Baroud retain his position, Al Hayat said
Arslan
The Lebanese Democratic Party which is headed by MP Talal Arslan on Wednesday warned that it will withhold confidence from the cabinet from if there are "any attempts to marginalize the party's position in cabinet representation."
It appears that LDP was offered a state portfolio ( usually referred to as "filler" in the new cabinet )
"Any attempt of this kind could push the party to withhold confidence from the cabinet through its representatives in parliament," the party said in a statement.