Libya: Gaddafi forces fight back
THE multinational coalition executing air strikes against forces loyal to the Libyan leader, Muammar Gaddafi, appears to have paved the way for a new rebel front by bombing positions near a rural stretch along the country's western border.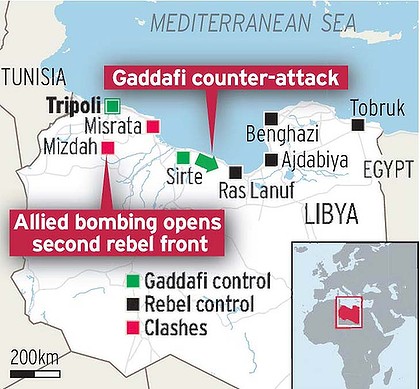 However, in the east of the country a sustained counter-attack by Libyan government troops sent rebel fighters fleeing eastward for about 150 kilometres, erasing many of the gains made at the weekend by opposition forces attempting to overthrow Colonel Gaddafi.
Panicked and badly rattled, hundreds of rebels sped away from the front to escape fierce rocket barrages by Colonel Gaddafi's soldiers and militiamen. Rebel gun trucks raced three abreast and jostled madly for position on a coastal highway choked with retreating fighters and civilians. At one point, rebels surrendered 110 kilometres of terrain in just four hours.
Advertisement: Story continues below
It was a humiliating rout for a volunteer fighting force that had advanced 240 kilometres in 24 hours over the weekend behind allied air strikes that pummelled government troops and armour. Many rebels had spoken confidently of marching on Tripoli.
But by late on Tuesday afternoon those same rebels were in headlong retreat from Bin Jawad, which they had seized only on Sunday.
Yesterday Libyan rebels said that opposition fighters were falling further back, retreating from the key oil port of Ras Lanuf along the coastal road leading to the capital after they came under heavy shelling from ground forces loyal to Colonel Gaddafi.
Libyan authorities took journalists to the city of Mizdah, about 160 kilometres south of Tripoli, on Tuesday to view evidence of civilian damage caused by coalition warplane and missile strikes on Sunday and Monday.
Military sites in both Mizdah and Gharyan, another city struck by coalition warplanes this week, lie on the front line against the rebel-controlled towns of Zintan and Nalut to the west.
Mizdah showed the perils of using air power in an attempt to change the balance of military power on the ground. An ammunition depot apparently struck by coalition air strikes resulted in rockets hitting the town's general hospital, a nearby apartment complex housing foreign medical staff and a family home. Several civilians were injured but none killed, hospital officials said.
At the same time, Adel Zintani, a rebel spokesman reached in Zintan, about 150 kilometres south of Tripoli, said that city was being pummelled daily by Gaddafi forces firing Grad missiles. Mizdah and Gharyan house huge weapons storage facilities that are used to support the offensive against Zintan, Nalut and several other smaller towns along Libya's sparsely populated Western Mountains region, he said.
Colonel Gaddafi's men were hunkering down and "preparing to reinforce existing positions" near Zintan, US Vice-Admiral William Gortney told reporters at the Pentagon.
Like the rebel advance on the Gaddafi stronghold of Sirte, a move by rebels into Mizdah risks igniting tribal tensions. smh