Libyan FM defects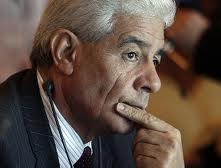 Britain's foreign ministry has said that Moussa Koussa, Libya's foreign minister, has arrived in the UK and is resigning from his post.
The ministry said in a statement on Wednesday that Moussa arrived at Farnborough Airport from Tunisia and that he had travelled to the UK under his own free will.
The statement said: "He has told us that he is resigning his post."
A Libyan government spokesman insisted Koussa, in his post for two years, had not defected, but was travelling abroad on a diplomatic mission.