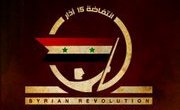 The Syria Revolution 2011, which has emerged as the organizing force behind the demonstrations demanding "freedom" in Syria, is calling for sit-ins across the country Friday despite a bid by the state to reach out to protesters.
" We declare the Friday April 1, 2011 as the of Martyrs. In all governorates, in all mosques, in all squares. An ope ended sit-in until our demands are met — all our demands," read a letter posted on its facebook page in Arabic .
"In loyalty to the blood of our martyrs in Daraa and Latakia. Be ready, oh people in revolt," read the group's status. "We do not give up — we are either victorious, or we will die."
Syria's autocratic regime was this week facing a grave test of its four-decade rule as a protest movement gathered momentum across the country, demanding freedom, widespread reforms and an end to repressive rule.
President Bashar al-Assad was expected this week to make his first public statement since rolling demonstrations began in mid-March. For some mysterious reasons his appearance has been postponed 3 times within so many days without any explanations . He was first supposed to address the Syrian people last Sunday. According to the most recent report he will address the parliament on Wednesday .
More than 150 people – almost all of them demonstrators – were thought to have been killed last week. The most severe clashes were reported in the southern city of Daraa, near the Jordanian border and in the port city of Latakia in the north.