Analysis: Syria poses new dilemma for France's Sarkozy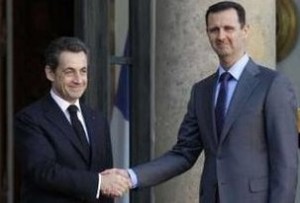 French President Nicolas Sarkozy has stolen the international limelight with his bravura intervention in Libya but he may find it trickier to deal with the gathering crisis in Syria.
It was Sarkozy after all who ended Syria's international isolation when he feted President Bashar al-Assad in a visit to Paris in 2008. Assad was given the seat of honor at Bastille Day celebration, marking the moment at which Assad's Baathist regime was accepted back into the international community.
Nobody sees France or any other Western power wanting to start another military campaign. Yet Sarkozy has set a precedent that puts him under pressure to take an equally firm hand on the crackdown on pro-democracy protests in the former French colony.
More than 60 people have been killed in towns across Syria as demonstrations have spread in recent days, prompting Assad to send the army out on the street as he faces the gravest crisis in his 11-year rule.
Sarkozy — who grabbed control of the world response to the Libyan crisis to reassert France's influence in North Africa after its clumsy handling of revolts in Tunisia and Egypt — must come up with a smart strategy on Syria or lose his new kudos, analysts say.
"He can't go out on several fronts at once, and the front where he is engaged is starting to show the difficulties of such an operation," said North Africa expert Christian Bouquet at the University of Bordeaux III.
"On the ground Sarkozy has stated, human rights and democracy, there should be interventions in several countries including Syria, and Ivory Coast, but he would not be able to mobilize the international community … and there would be a hierarchy problem of where he should go first."
The tensions in Syria have not reached the level they did in Libya when Sarkozy called the emergency summit that launched air strikes against Muammar Gaddafi's troops.
Syria's ties with Iran and the fact it borders Israel, Iraq and Turkey would make military action an undesirable option, especially given the high risk of repercussions from groups like the Palestinian Islamist Hamas movement or Hezbollah in Lebanon.
The United States has already played down the possibility of a military solution in Syria and France, as its colonial power until 1946, would also be reluctant to use force.
"Iran is very involved with this regime. Iran would defend it with all means possible," said Antoine Basbous, head of the Paris-based Observatory of Arab countries.
"What's at stake if the Syrian regime falls is not just a matter of Syria internally, the stakes are above all geopolitical ones on regional scale."
STRAINED RELATIONS
In recent days, Sarkozy has slammed Assad's hard line on protesters, saying every Arab ruler should understand that it was unacceptable to have the army fire live shots at protesters.
Foreign Minister Alain Juppe, brought in to rebrand French diplomacy after his predecessor quit over her Tunisia blunders, urged Damascus to listen to the voice of dialogue and democracy.
Sarkozy is in a tight spot because of the hero's welcome he gave Assad at the Mediterranean summit in Paris in 2008, an event that reset Syrian relations with Europe after years of isolation for supporting terrorism.
Much like Gaddafi, who Sarkozy received on a grandiose state visit in 2007, Assad was persona-non-grata until the Paris meeting sealed a new detente with the West.
The visit reset Franco-Syrian relations, strained since the 2005 assassination of Lebanese prime minister Rafik al-Hariri, which Paris believed was orchestrated from Damascus.
It will be hard for Sarkozy to turn against somebody he so publicly backed, even if his turnaround on Gaddafi shows he can ditch old friends if they prove too unsavory.
What is sticky for Sarkozy today is that somebody he met several times and lauded as a reformer has ended up keeping Syria's authoritarian political system intact.
Assad's Baath party allows no meaningful opposition and the Assad family, members of the prominent minority Alawite sect, controls much of Syria's economy. That said, Assad could still be a better bet for the West than a rashly decided replacement.
"Previously, there was cautious language toward Syria; it was an effort to offer an olive branch because we were hoping for results, but things have changed since then," a French diplomatic source said.
Most observers see Sarkozy continuing to use strong but measured diplomatic language on Syria and perhaps pushing for U.N. sanctions as a second step, as he did last week with Nigeria over Ivory Coast's incumbent leader.
That could meet with opposition from China and Russia, which in turn could raise more questions about how the U.N. Security Council can respond to fast-moving crises, said Bouquet .
"Everything that's happened in the past three months raises the question of how the U.N. is organized, how it can react and be effective. If Sarkozy wants to advance things, he must first pose that underlying question before focusing on specific cases," he said.
"If Sarkozy is cunning," he added, "He will hide behind the U.N.'s double entendres to avoid having to intervene right away in a hot spot like Syria."
By: Catherine Bremer
Reuters