Libyan rebels: 'We're civilized and educated not al-Qaeda'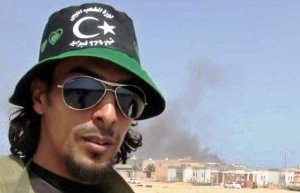 Until three weeks ago, Gabail Hamad was an engineer for Libya Air.
"Look at me, I'm dressed like an imam," said Hamad, 45, who was wearing a long robe and a white lace prayer hat called a taqiyah.
Hamad stood amid dozens of 5-inch artillery shells in Brega, where he was fighting for the rebels seeking to overthrow Libyan leader Moammar Gadhafi.
"I'm an engineer, a civilized person, an educated person," Hamad said. "I lived in Switzerland for 10 years. I'm a revolutionary, not al-Qaeda, not Taliban.
"Gadhafi, bin Laden, Hitler: all the same."
The rebels who make up the opposition forces in a 3-week-old uprising come from all levels of Libyan society. What they have in common is a hatred of Gadhafi and a desire for basic freedoms and a fair share of the oil wealth they see as a birthright denied them by the dictatorship that has gripped their country for 42 years.
The aim of the provisional government formed in Benghazi is to oust Gadhafi and replace his regime. What would replace Gadhafi is not clear.
Tuesday, U.S. Secretary of State Hillary Rodham Clinton met in London with Libyan opposition leader Mahmoud Jibril at a conference on Libya's future attended by a coalition of nations involved in a military action against Gadhafi's forces. It was the first face-to-face contact between the rebellion and U.S. officials.
The U.S. State Department plans to send diplomats to Benghazi, not to formally recognize the provisional government as the legitimate government of Libya — as France has done — but to get to know its members.
On the battlefields and in training camps, the Libyans who have volunteered to fight Gadhafi are from diverse backgrounds. There are Libyans who say they are doctors, lawyers and businessmen. Many are people without jobs or careers. There are young and old, city dwellers and semi-nomads from the southern desert.
Conversations with them reveal that hardly any have been unscathed by the repression and brutality that has made the Gadhafi regime among the world's worst violators of human rights, according to the State Department and groups such as Human Rights Watch.
Men talk of a brother killed in a massacre at Abu Slim, a prison run by Gadhafi's Internal Security Agency where 1,000 inmates were murdered in 1996, according to Human Rights Watch. Mothers talk of losing sons to Gadhafi's numerous military invasions into Chad during the 1970s and 1980s, which were to take territory he claimed belonged to Libya from colonial times.
They point to attacks against civilians in recent weeks in places such as Ajdabiya, where Human Rights Watch says hundreds of people have disappeared.
They talk of lives without hope for prosperity amid immense wealth.
Musbah Shoaibe, a kaffiyeh wrapped around his head and an ammunition belt draped across his neck, was hanging out with a group of friends who took part in the takeover of an oil refinery at Zuweitina. He said they were all unemployed occasional workers and most were unmarried.
He and others said the unemployment rate of nearly 21%, according to the official census of 2006, is Gadhafi's fault.
"We are tribal, from the south, and we are for the revolution. We need jobs," said Fathi Ali Mohammed, 32, who has eight brothers and four sisters.
Faysal Saad Mabrouk, 28, has 24 brothers and sisters, and his father has three wives.
"I have no money, no wife," Mabrouk said. "We need money to get married, and there's nothing we can do. We can't take a loan, and there is no work."
Ali Al-Tarhouni, 61, was an economics professor at the University of Washington up until February. He is the finance minister for the provisional government in Benghazi.
Al-Tarhouni signed a contract on the rebels' behalf with Qatar several days ago to export crude oil from ports controlled by the rebels. After finishing his BA in Benghazi's university (where he was "kicked out every week for political activism"), Al-Tarhouni left Libya to pursue higher education in the USA in 1973.
"I couldn't wait to come back. I almost gave up hope," said Al-Tarhouni, who says he was sentenced to death in Libya in absentia for his political activism as a college student.
Al-Tarhouni foresees capitalism, not socialism, as the dominant economic model of the new government.
"The provisional national council laid out its political goals clearly: a constitutional democracy with freedom of expression. The economic structure would flow from that, and is a system where the private sector dominates," he said.
Nearly all of Libya's 6.5 million people are Sunni Muslims, and there is a small minority of Coptic Christians and other sects of Islam. In comparison to Iraq, Libya runs no risk of exploding into the Sunni-Shiite sectarian violence Iraq witnessed in 2007.
Ahmed Feitouri, a major in the police department, stood guard with a Kalashnikov rifle outside of the Ouzo Hotel. He said a government established by the rebels would not be extremist. Mahmoud El-Mufti agreed.
"We are Arabs, we are Muslim," said El-Mufti, marketing director of Almarfa Shipping. He waved to guards at Benghazi port's main gate as he drove past them in his camel-colored SUV, tipping his sunglasses down from his oiled black curls on his way to greet a Turkish and Emirati aid ship as it docked.
"We continuously support the Palestinian cause," he said, "but Israel is not our priority. We're not interested in war. We want to see prosperity first. We can be the Dubai No. 2."
Enas Al-Drisey, 23, recently graduated with a degree in medical physics and volunteers at the provisional government's media center. Al-Drisey's father, who oversees social affairs on Benghazi's City Council, is with the rebellion.
"I feel free now. I can say whatever I want, about Gadhafi or anything else," she said. "I want everybody to know that Libyans are kind and peaceful people."
Al-Drisey said Libyans will remember who helped them, such as the United States, France and Britain.
"We thank them for the no-fly zone," she said. "Syria, Algeria, Yemen did not support our desire for the no-fly zone. We have never had a real relationship with Iran — they are (Shiite), and we don't agree with their religion. I don't think our relationship will change in the future."
Abril Ben Ismail, 35, a gynecologist, was among the women at a demonstration to refute Gadhafi's allegation that protesters were members of al-Qaeda and that the men did everything while the women did nothing.
"Women here are educated, even the housewives. We are doctors, lawyers, pharmacists," she said. "We're not al-Qaeda, we're just Muslims." USA today