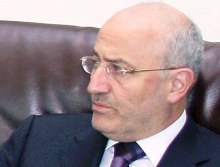 Caretaker Minister of Public Works and Transportation Ghazi Aridi commented on abduction of the 7 Estonian tourists and the bombing of the Church in Zahle . He said, "When the country is weak, any one can mess around with its security,"
In an interview with OTV he also commented on the delay of cabinet formation " I have my own suspicions ". He declined to spell them out
Commenting on the Syrian situation he said: The Syrian regime recognizes its problems, and it is in our interests to deal with things on the basis of cohesion, because any shakeup in the Syrian situation will be disastrous for Lebanon, especially at this stage."
He did not elaborate, but Aridi is a member of MP Jumblatt's progressive Socialist party which defected to the Iranian and Syrian backed Hezbollah- led March 8 alliance earlier this year .
Jumblatt turned fiercely anti-Syrian after the 2005 assassination of former Lebanese PM Rafik al-Hariri and blamed Syrian president Bashar Al Assad for the killing. But about this time last year he visited Damascus and met with the Syrian president . The meeting helped to consolidate Syria's political gains in Lebanon as it attempted to restore influence lost when it withdrew its troops five years ago under international pressure.
This error message is only visible to WordPress admins
Error: No connected account.
Please go to the Instagram Feed settings page to connect an account.