power struggle behind failure to end Syria's emergency rule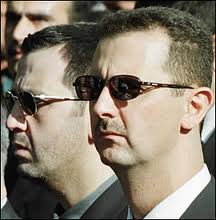 As the army was again deployed on the streets of Latakia and Deraa, two cities where scores of anti-government protesters have been killed in recent days, many Syrians were left baffled by the president's non-appearance.
Soldiers in Deraa, where at least 60 people were killed last week, fired tear gas and live ammunition into the air in a failed attempt to disperse thousands of protesters.
Facing the worst crisis of his 11 year rule, Mr Assad last week used his spokesman, Bouthaina Shaaban, to promise political and economic concessions, including the lifting of a much hated state of emergency that has banned demonstrations and allowed arbitrary arrests.
Throughout Sunday, Mr Assad's advisers, including Mrs Shaaban, repeatedly insisted that the president would address the nation within hours, hinting that he would use the appearance to make good on his promises.
Mr Assad has been invisible since the crisis began over a week ago and observers and opposition activists suggested that an attempt by hardliners led by the president's brother Maher was under way to sideline him.
"The president may be no democrat but he is at least more pragmatic than some of those around him who now seem to be set on launching a kind of palace coup in which power is transferred to them, at least while the crisis continues," one activist said.
Increasing the impression that the hawks were in the ascendancy, members of the notorious Shabiha gang, which is linked to members of the Assad family, were deployed on the streets of Tartus and in a suburb of Damascus. Residents said the gangsters, armed with sticks and hunting rifles, had beaten suspected opposition sympathisers. The day before Shabiha gunmen were accused of firing at protesters and passersby from cars and city rooftops in the coastal city of Latakia, where at least 16 civilians were killed. Telegraph