Estonia's FM: Lebanon doing utmost to find the 7 kidnapped tourists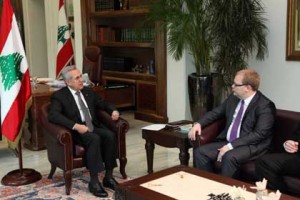 Estonia's foreign minister Urmas Paet who arrived in Beirut on Monday says authorities still don't know who abducted the seven Estonian cyclists last week in eastern Lebanon.
Paet who met with President Michel Suleiman, Speaker Nabih Berri, Premier-designate Najib Miqati and Caretaker Interior Minister Ziad Baroud, said it's impossible "at this stage" to say who was behind the kidnapping , but the Lebanese officials informed him that they were making every effort to find the Estonian tourists "
Paet told Estonian public television before heading to Beirut: "We have no information about where they are and who abducted them," "Fragments of information have been collected, but there is no information that would lead to a positive outcome."
Al-Akhbar daily said that Lebanese authorities are searching for an Estonian woman who gave her testimony on the kidnapping of the seven tourists and later disappeared.
A source involved in the investigation refused to name the woman or unveil whether she was still in Lebanon.
The tourists were kidnapped by armed men wearing masks near the Bekaa valley town of Zahle Wednesday after entering Lebanon from Syria, via the Masnaa border crossing.
Following their disappearance, suspicion fell on the Popular Front for the Liberation of Palestine-General Command (PFLP-GC), which has bases close to the Syrian border. The group immediately denied carrying out the kidnapping.
But now the investigation is also focusing on the possibility that the men were taken to Syria immediately after their abduction.
Security sources yesterday linked the bombing of the Church in Zahle to the kidnappers.
Update LBC TV reported that a large number of army commandos headed to the Bekaa town of Jib Jennin in a mission related to the abduction of the Estonians.