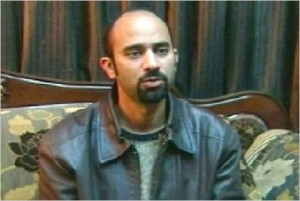 In an apparent attempt to bolster the Syrian government's claim that this week's protests were the result of a foreign plot, Syrian state television has broadcast what it called a "confession" by an Egyptian-American who was detained in Damascus on Friday.
The official Syrian state news agency reported that Muhammed Radwan, an Egyptian engineer who has worked in Syria for about a year, "said that he visited Israel in secret and confessed to receiving money from abroad in exchange for sending photos and videos about Syria." The report also claimed that "a Spanish-speaking person from Columbia" had contacted Mr. Radwan "because he lived in Syria and carries a camera-equipped mobile phone" and offered to pay him 100 Egyptian pounds (about $16) in return for photographs and video.
One of Mr. Radwan's cousins in Egypt, Nora Shalaby, told The Lede by e-mail on Saturday that the Syrian report is "all lies. He has never been to Israel, and he does not speak Spanish." Ms. Shalaby added that Mr. Radwan, who was educated in the United States and took part in protests in Cairo last month, posted an update on his @battutta Twitter feed from his phone on Friday suggesting that he was observing a protest at the Umayyad Mosque in Damascus.
As The Lede reported on Friday, another American, Tik Root, a college student from Vermont studying Arabic in Damascus, was arrested by the Syrian government during a previous protest on March 18 in the Umayyad Mosque. The State Department told The Associated Press on Saturday that it was looking into the reported arrests.
In recent weeks, Mr. Radwan had posted a small number of updates on Twitter about the growing unrest in Syria.
if internet cuts out in #syria, that will confirm to ppl outside if rev really started here,either way,im off 2 hamadiya mosque 2 see wassupTue Mar 15 13:05:43 via Seesmic WebR@Dw@N
battutta
His cousin, Ms. Shalaby, an archeologist and blogger who also took part in the protests in Egypt, reported on her Twitter feed on Saturday that the Egyptian embassy in Syria "called me and took all info about @battutta and said will work to free him." She added that the American embassy in Cairo was much less helpful when she called to inform them that an American citizen was being held in Syria. NYT
This error message is only visible to WordPress admins
Error: No connected account.
Please go to the Instagram Feed settings page to connect an account.