Libyan Rebels Celebrate Victory in Ajdabiya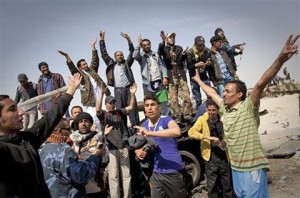 Celebrations are under way in the Libyan town of Ajdabiya, where rebels have regained control following a barrage of coalition airstrikes against pro-Gadhafi forces.
Rebel fighters and civilians danced on top of tanks, fired guns into the air and honked car horns Saturday in the strategic oil town, about 160 kilometers south of Benghazi, the rebels' principal stronghold. Witnesses say they saw the bodies of more than a dozen government soldiers.
Separately, Reuters news agency quotes a rebel spokesman who says coalition forces launched fresh airstrikes Saturday on the outskirts of Misrata, another rebel-held town near Tripoli leader Moammar Gadhafi's capital.
Libyan officials have announced plans to pursue diplomatic efforts to resolve the crisis, but there was no immediate action on that front Saturday.
A delegation representing Mr. Gadhafi said Friday his government is ready to implement a "road map" envisioned by the African Union. The Libyan officials met with envoys from five other African nations in Ethiopia's capital, Addis Ababa.
African Union members say they are committed to a cease-fire in Libya. They have called for end to the western nations' airstrikes and naval blockade of Libya. VOA