Hamadeh:One day I will talk about my relationship with Jumblatt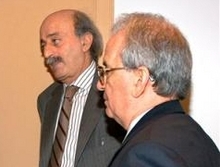 Kuwaiti Newspaper al Anbaa quoted sources close to MP Marwan Hamadah as saying that there will come a day when he will reveal all he knows about his relationship with MP Walid Jumblatt. He accuses Jumblatt of badmouthing him at every possible opportunity . Jumblatt reportedly blames Hamadah for the 1559 UN resolution, the 2008 disclosure about the airport cameras that exposed Hezbollah's spying on incoming and departing Lebanese leaders . He has also reportedly been attacking Hamadah for not supporting Nagib Mikati's candidacy for PM.
Unlike Jumblatt , Hamadah remained as strong supporter of March 14 alliance .
He was one of 4 Democratic Gathering MPS who decided to vote for caretaker PM Saad Hariri during the consultations.
Hamadeh miraculously survived an assassination attempt by the Syrians in 2004 over the drafting of UN resolution 1559. Hezbollah reportedly was involved in the logistics of the attempted murder.
Hamadeh said last January that "Prime Minister designate Najib Mikati should not fall in the trap that was set up for him" by the March 8 coalition, in reference to Hezbollah and its allies.