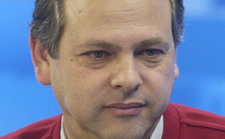 March 14 MP Nabil De Freij criticized during an interview with Akhar al-Yawm the accusations of treason after the release of the WikiLeaks reports:
" Nasrallah's speech has negatively affected Lebanon and its ties with Bahrain. A lawsuit should be filed over a speech that ruined the lives of Lebanese families in Bahrain."
His comment comes after Bahrain NATIONAL carrier Gulf Air suspended all flights between Bahrain and Lebanon effective Tuesday March 22, in response to the speech of the Hezbollah leader .
The action by the Bahrain national carrier came after Bahrain issued a travel advisory banning all its citizens from traveling to Lebanon and also urged its citizens that are living in Lebanon to leave immediately for security reasons
During a televised speech via video link on Saturday evening Hezbollah 's Hassan Nasarllah called the events in Bahrain a "special injustice". Nasrallah asked whether Arab silence about the repression of protests there is due to sectarian prejudice against the Shiite-majority opposition.
"I ask some in the Arab and Islamic worlds: Why have you remained mum over the tyranny against our people in Bahrain, is it only because they are Shiites?"
He also said Hezbollah is ready to help the protesters.
Caretaker Prime Minister Saad Hariri warned on Monday against using Lebanon's domestic conflict to inflame conflicts in Arab countries.
Many Lebanese in Bahrain are now reportedly facing problems with their residence visas according to reports coming from Manama.
Political analysts contacted by Ya Libnan expressed concern about the future of Lebanon and its economy , if the Hezbollah led opposition will be governing the country. The analysts said Hezbollah has become the number one liability for Lebanon. One analyst added: Lebanon can no longer afford Hezbollah