Lebanese Shiite cleric calls for dialogue in Bahrain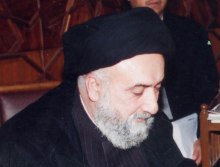 Sayyed Ali Al-Amin, former Mufti of Tyre and Mount Amel has denounced violence, vandalism and bloody conflicts in Bahrain, asserting that dialogue is the best choice to assure peaceful coexistence.
In an interview with Lebanese daily " Al Lewa", Sayyed Al Amin called Bahrainis including Shiites and Sunnis to set for dialogue and refuse all kind of violence and conflict because what can be reached through dialogue is always the best.
Answering a question whether Iran is considered as a peaceful destination for certain people, Al Ameen affirmed that Iran can only be the source of peace and security for its own citizens and that integration with people in homelands is the only source of peace for the Shiites.
He added that relations between the Shiites and Iran must be through their countries and not through political or sectarian groups and the real guarantee for Shiites in their nations is not to think that Iran is protecting them but they can find protection by building their countries and through peaceful coexistence with various components of peoples.
Outspoken leader
Mufti Amin , a highly respected Shiite spiritual leader is a well known critic of Hezbollah.
In an interview with Naharnet following Hezbollah invasion of Beirut in 2008 , the Mufti said the Shiites in Lebanon and the Arab world should support their states and reject the Iran-styled Wilayat al Faqih rule, and called for a judiciary investigation in assaults carried out by Hezbollah against Beirut. .
He also said the "Shiite communities in Lebanon and the Arab world should believe in state rule and not believe in the rule of the Faqih in Iran."
"The Faqih rule in Iran has become a political regime. If I support any (foreign) political regime this means that I would disagree with the political regime that rules me. This is totally unacceptable," Amin said.
BNA, Naharnet, Ya Libnan