Hariri blasts Hezbollah over fueling Arab conflicts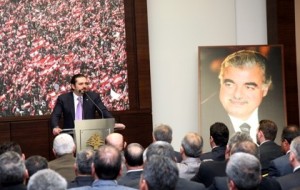 Caretaker Prime Minister Saad Hariri warned on Monday against using Lebanon's domestic conflict to inflame conflicts in Arab countries.
His comment comes after Bahrain condemned on Sunday Hezbollah's criticism of its government, describing it as an intervention in the Gulf country's internal affairs and held the Lebanese government responsible saying the statements would have a negative impact on the Lebanese-Bahraini bilateral ties.
During a televised speech via video link on Saturday evening Hezbollah leader Sayyed Hassan Nasarllah called the events in Bahrain a "special injustice". Nasrallah asked whether Arab silence about the repression of protests there is due to sectarian prejudice against the Shiite-majority opposition.
"I ask some in the Arab and Islamic worlds: Why have you remained mum over the tyranny against our people in Bahrain, is it only because they are Shiites?"
He also said Hezbollah is ready to help
Hariri told al-Mustaqbal and Beirut families that visited him at Center House on Monday night: "Hezbollah calls for change in Arab countries based on the Iranian way. It wants the Lebanese people to accept turning Lebanon into an arena that exports revolutions…We clearly and frankly say this policy is rejected by most Lebanese people."
Solidarity with Arab people is one thing , but adding fuel to the fire of Arab conflicts is something else, Hariri also said.
Hariri also accused Nasrallah of implementing the policies of foreign countries, in reference to Iran, by verbally attacking Saudi Arabia, Bahrain and the rest of the Gulf Cooperation Council countries.
"This harms the interest of the Lebanese and their historic relations with the Arabs," Hariri said.
Shiite cleric denounces violence
Sayyed Ali Al-Amin, former Mufti of Tyre and Mount Amel denounced violence, vandalism and bloody conflicts in Bahrain, asserting that dialogue is the best choice to assure peaceful coexistence.
Mufti Amin , a highly respected Shiite spiritual leader is a well known critic of Hezbollah.
In an interview with Lebanese daily " Al Lewa" on Monday , Sayyed Al Amin called for dialogue between Bahrainis …Shiites and Sunnis and to refuse all kind of violence and conflict because what can be reached through dialogue is always the best , he said
The Mufti said that relations between the Shiites and Iran must be through their countries and not through political or sectarian groups and the real guarantee for Shiites in their nations is not to think that Iran is protecting them but they can find protection by building their countries and through peaceful coexistence with various components of peoples.