Libya rebels trying to reclaim lost towns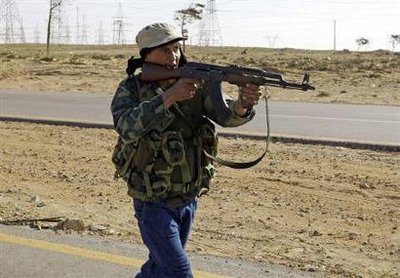 Anti-government rebels are clashing with government loyalists in key Libyan cities as international forces continued a string of airstrikes against government air defences.
The airstikes, which began over the weekend, have hit a number of Libyan defence sites, including a buildling in one of leader Gadhafi's compounds in Tripoli.
An Associated Press photographer at the scene said half of the round, three-storey building was knocked down, smoke was rising from it and pieces of a cruise missile were scattered around the scene.
The building was apparently targeted because it was believed to contain air defences, CBC's Nahlah Ayed said from Cairo on Monday.
Meanwhile, rebels said they were trying to reclaim the nearby city of Ajdabiya, which had been surrounded by government troops before the international campaign began.
"There are pro-Gadhafi forces inside fighting rebel fighters. There is fighting and shelling going on," said Ahmad Mohammed, 26, who returned from the front Monday.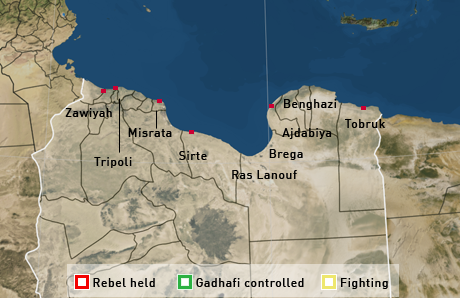 Ayed said rebels from the eastern city of Benghazi are heading towards Ajdabiya.
New fighting also broke out Monday in Misrata, the last rebel-held city in western Libya, according to reports from Al-Jazeera and Al-Arabiya.
The U.S. military, currently at the lead of the international campaign, is trying to walk a fine line over the end game of the assault. It is avoiding for now any appearance that it aims to take out Gadhafi or help the rebels oust him, instead limiting its stated goals to protecting civilians.
Britain also is treading carefully.
Foreign Secretary William Hague refused Monday to say if Gadhafi would or could be assassinated, insisting he would not "get drawn into details about what or whom may be targeted."
"I'm not going to speculate on the targets," Hague said in a heated interview with BBC radio. "That depends on the circumstances at the time."
As airstrikes continued over the weekend, concerns emerged that the Arab League may not be behind the UN-backed action in Libya.
On Monday, Arab League chief Amr Moussa said that he "respects" the UN Security Council's resolution.
"We have no conflict with the resolution, especially as it confirms that there is no invasion or occupation of Libyan territory," Moussa said after meeting with UN Secretary Genearl Ban Ki-moon in Cairo on Monday.
Canadian warplanes committed to the coalition air campaign over Libya will be enforcing a no-fly zone within 48 hours, Defence Minister Peter MacKay said Sunday
U.S. may turn control 'in a matter of days'
U.S. Defence Secretary Robert Gates said late Sunday that the U.S. expects to turn over control of the operation to a coalition headed by France, Britain or NATO "in a matter of days," reflecting concern that the U.S. military was stretched thin by its current missions. Turkey was blocking NATO action, which requires agreement by all 28 members of the alliance.
On Sunday night, heavy anti-aircraft fire erupted repeatedly in the capital of Tripoli, with arcs of red tracer bullets and exploding shells in the dark sky, marking the start of a second night of international strikes.
Gadhafi supporters in the streets shot automatic weapons in the air in a show of defiance. It was not immediately known what was being targeted in the new strikes.
In a phone call to Libyan state television Sunday, Gadhafi said he would not let up on Benghazi and said the government had opened up weapons depots to all Libyans, now armed with "automatic weapons, mortars and bombs."
"We promise you a long war," he said.