Former US secretary of State'Warren Christopher dies at 85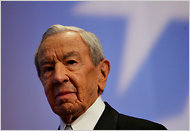 Warren M. Christopher, the secretary of state in President Bill Clinton's first term and the chief negotiator for the 1981 release of American hostages in Iran, died Friday night in Los Angeles. He was 85.
A spokeswoman for O'Melveny & Myers, the law firm where Mr. Christopher was a senior partner, confirmed his death, according to The Associated Press.
Methodical and self-effacing, Mr. Christopher alternated for nearly five decades between top echelons of both the federal government and legal and political life in California. Among other things, he served as administration point man with Congress in winning ratification of Panama Canal treaties, presided over normalization of diplomatic relations with China and conducted repeated negotiations involving the Middle East and the Balkans.
At home, Mr. Christopher developed a reputation as an expert in urban riots, investigating racial unrest in Detroit and in the Watts district of Los Angeles and later heading a 1991 commission that proposed major reforms of the Los Angeles Police Department following riots prompted by the beating of a black motorist, Rodney King.
As a political operative, he headed Mr. Clinton's 1992 search committee for a vice presidential running mate, settling on Al Gore, and subsequently directed the transition team of the president-elect, acting as an establishment counterweight on a team dominated by Arkansans new to the national scene. Eight years later, when Mr. Gore was running for president, he directed the search resulting in the selection of Senator Joseph I. Lieberman for the second spot on the Democratic ticket.
When the election stalemated, Mr. Christopher supervised the recount of disputed votes in Florida before George W. Bush emerged the winner by decision of the Supreme Court.
Mr. Christopher was in overall charge of the Florida recount effort, although much of the legal strategy was devised by a team of lawyers led by David Boies, the prominent corporate lawyer, and Ronald A. Klain, Mr. Gore's former chief of staff and a onetime partner of Mr. Christopher's at O'Melveny & Myers.
Mr. Christopher came under criticism at the time, and later in "Recount," the 2008 HBO dramatization of the Florida vote dispute, over a lack of legal and political aggressiveness against Mr. Bush's legal team, led by a former secretary of state, James A. Baker. The movie, in particular, portrayed Mr. Christopher as overly concerned with the niceties of the law while Mr. Baker was waging a bare-knuckled campaign on all fronts.
Mr. Klain said that was an unfair characterization. "Like all dramatic portrayals, they sought dramatic tension by exaggerating people's personalities," he said on Saturday. "People often confused Chris's reserved style and personal sense of propriety with a lack of fierceness on behalf of his client. That would be a mistake."
He said it was Mr. Christopher's decision to challenge the Florida result, even as most Republicans and some prominent Democrats were urging Mr. Gore to concede. "People don't remember how controversial that effort was. Without Chris's stature and credibility, I'm not sure we would have gotten as far as we did," Mr. Klain said.
Mr. Bush's ascension to the White House was decreed by five Supreme Court justices, Mr. Klain insisted, not by any flaw in Mr. Gore's legal strategy or Mr. Christopher's leadership. "In all the years since then," he said, "no one has come up with any workable strategic advice on how we could have gotten one of those justices to switch."
Though widely admired for his even-handedness and equanimity — he was once described as every husband's ideal for a wife's divorce lawyer — Mr. Christopher was accused by detractors of lacking passionate, big-picture diplomatic vision. Even friends and associates, to whom he was known as Chris or sometimes as "the Cardinal," said they could not discern a guiding geopolitical philosophy, regarding him as more a consummate tactician than a conceptualizer.
At the time he was named secretary of state, The New York Times reported a one-time State Department official who worked with him as saying, "If we were in a meeting on a crisis, no one would turn to Chris and say, 'You put together the strategy memo.' But everyone would want him to read it because he'd be very good at implementing it."
Mr. Christopher appeared not to disagree. "My task had been to serve as steward, not proprietor, of an extraordinary public trust," he wrote in "Chances of a Lifetime: A Memoir," published in 2001. But he bristled at criticism that Mr. Clinton's penchant for consultation and his own eagerness to listen had made for seminars, not decisions. "The president's desire to consult and my Norwegian taciturnity didn't prevent us from making the right judgments," he said of one occasion.
Warren Minor Christopher was born Oct. 27, 1925, in the farming hamlet of Scranton, N.D., one of five children. His father, a local banker, suffered a stroke that the family believed was the result of overwork from his unsuccessful efforts keep the bank solvent during the Depression. The elder Christopher died four years later at 53 after the family moved to California.
The unabashed New Deal liberalism that young Warren embraced during this formative period remained with him throughout his career even though he made his financial fortune representing I.B.M., the Lockheed Martin Corporation and other major companies for O'Melveny & Myers, the most traditional and prestigious of Los Angeles law firms and which he eventually led.
Always impeccably dressed and unfailingly polite, Mr. Christopher told an interviewer while secretary of state that "I always thought that I would do things in a conservative way to maximize the progressiveness of my policy positions."
While attending Hollywood High School he delivered newspapers several hours each day and, he told friends, he felt discriminated against because of his family's difficult financial circumstances. His entered the University of Redlands at 16 but World War II intervened and he wound up in a Navy officer program at the University of Southern California, soon to serve as an ensign in the Navy Reserve on an oil tanker in the Pacific.
Mr. Christopher, who as a diplomat came to embody a reluctance to use force, supported Truman's use of atomic bombs on Japan but later expressed doubt as to whether all alternatives had been fully explored.
After earning degrees at U.S.C. and Stanford's law school, Mr. Christopher won a clerkship with William O. Douglas, during which he helped draft book chapters for the libertarian Supreme Court justice.
He joined O'Melveny & Myers in 1950, soon became an adviser and speech writer for California's newly elected governor, Edmund G. Brown, and was credited with coining the term "responsible liberalism."
Mr. Christopher, made a partner at just 33 in 1958, was named by Governor Brown to the commission investigating the 1965 Watts riots. This brought him to the attention of President Lyndon Johnson, who in 1967 brought him back to Washington, until January 1969, as deputy to Attorney General Ramsey Clark.
Here, as he focused on racial unrest in Detroit and Washington, he formed a relationship with Cyrus R. Vance, who, on being installed as secretary of state seven years later, recommended that President Jimmy Carter ask Mr. Christopher again to take leave from O'Melveny & Myers and become No. 2 at state.
As deputy, his first major task was to shepherd through the Senate the Panama Canal treaties that, in exchange for returning sovereignty to the Central American territory, gave the United States the right, if necessary, to reopen the canal militarily.
But it was his agonizing and prolonged negotiations for the release of 52 hostages held in the American Embassy in Tehran for more than a year after the 1979 revolution for which Mr. Christopher's tenure is most vividly remembered.
Late in 1980 Mr. Christopher shuttled between Algeria, which had become a mediator, and Washington and finally brokered a deal under which the hostages would be released in return for an unfreezing of Iranian assets and a lifting of sanctions.
Even after the agreement was signed on the last full day of the Carter presidency, Iran disavowed a vital element in it, and Mr. Christopher wrote in a 2006 article about lessons learned in dealing with what he called the souk-like "bazaar behavior" of Iranian negotiators.
"To bring them back in line, I directed the pilot of my plane, on a telephone line that I knew was tapped, to warm up the engines. The Iranians quickly dropped their claim and a day later the hostages were released," he wrote.
Mr. Christopher, usually reserved and unemotional, wept at the ultimate success.
During the captivity, an American military rescue operation failed, and when Mr. Vance resigned, Mr. Carter passed over Mr. Christopher, the logical successor, in favor of Senator Edmund S. Muskie.
But Mr. Christopher loyally remained, and a few months after the hostages were released pointed to what he said was the value of patient negotiation.
"I am thankful to have served a nation so quietly strong that it could preserve its honor, not by retaliation or vengeance, but by preserving the lives of the hostages," he said.
After giving way to Madeleine Albright after one term as secretary of state, Mr. Christopher again returned to O'Melveny & Myers and civic and political life in California. He served as president of Stanford's board of trustees and was a longtime director of the Southern California Edison Company.
He occasionally spoke out on international issues, urging in an Op-Ed in The Times in late 2002 that President George Bush rethink "his fixation on attacking Iraq" and turn his attention to what he considered graver threats, such as North Korea.
"Even if the optimistic predictions of quick victory prove to be accurate," he wrote more than two months before the invasion, "we would then find ourselves absorbed with the occupation of Iraq and efforts to impose democracy on the fractious elements of that country."
Mr. Christopher is survived by his wife of 54 years, the former Marie Wyllis, a teacher, and by their three children and five grandchildren. He had a fourth child from an earlier marriage.