Obama warns Gaddafi: Honor ceasefire or face military force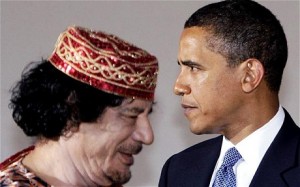 US President Barack Obama said today that Libyan leader Moammar Gadhafi must honor his commitment to a cease fire or face military action and a no-fly zone from the U.S. and its allies, though he also ruled out the idea of American ground troops in Libya.
"Once again, Moammar Gadhafi has a choice," Obama said, adding that "all attacks on civilians must stop" and Libyan troops must pull back from positions that threaten rebel strongholds.
"Let me be clear," Obama said during brief remarks at the White House. "These terms are not negotiable."
In ruling out the use of U.S. ground troops, Obama said the goal of any military action would be to protect the citizens of Libya. He said that ultimately the questions of freedom and democracy that are percolating in Libya and throughout the Middle East must be decided by the countries themselves.
Before his speech, Obama briefed a bipartisan congressional delegation about his plans, a day after the United Nations Security Council authorized the use of force in Libya.
Libya responded by declaring a cease-fire, though Obama, Secretary of State Hillary Rodham Clinton and British Prime Minister David Cameron said they would judge Gadhafi by his actions, not his words.
If Gadhafi does not follow through, Obama said, the U.N. resolution "will be enforced through military action."
"Left untouched," Obama said, "we have every reason to believe Gadhafi would commit atrocities against his people." USA today