4 Protesters killed by security forces in Syria, update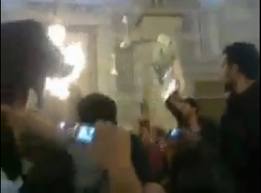 Four Syria protesters were killed by security forces on Friday in the city of Daraa, south of the capital Damascus and hundreds wounded, a human rights activist contacted by Agence France-Presse (AFP) said.
"The security forces fired live bullets at the protesters. Four people were killed," said the activist, identifying them as Akram al-Jawabra, Hussam Abdelwali Ayash, Ayham al-Harri and a member of the Abu Aoun family.
"Hundreds of protesters were wounded and many were snatched by the security force from the hospital where they had been taken and removed to an unknown location," he added.
Earlier Syria's state news agency SANA said violence and "acts of sabotage" broke out during the demonstration in Daraa, prompting "security forces to intervene to protect citizens and property."
"Infiltrators took advantage of a gathering of citizens near the Omari Mosque in the city of Daraa on Friday afternoon to provoke chaos through acts of violence which resulted in damage to private and public property," SANA reported. — Sapa-AFP