The Lebanese army said Thursday its Intelligence units had found and dismantled an Israeli spying device, apparently disguised as a rock, in southern Lebanon.
'The device was located near the area of Chamaa in southern Lebanon,' the army said in a statement after a tip from Hezbollah.
According to the statement, the device which was camouflaged as a rock took and transmitted photographs.
This is the second discovery this week. New TV has reported on Tuesday that the Lebanese army intelligence and Hezbollah discovered and dismantled an Israeli spy device which was located between the towns of Ansar and al-Zrarieh in south Lebanon.
Last December Lebanon army intelligence also discovered and dismantled several Israeli spying devices in Toumat Niha , in the Shouf region east of Beirut and Mount Sannine in the upper Metn region .
Lebanese Ministry of Foreign Affairs filed a complaint last December with the UN Security Council through its permanent mission at the UN over Israeli spying devices.
More than 150 people in Lebanon have been arrested since 2009 on suspicion of collaborating with Israel.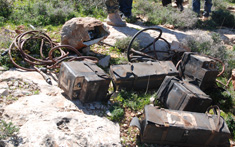 More pics of today's discovery