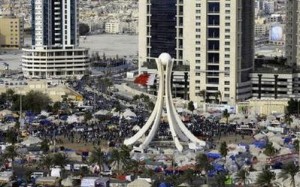 Bahraini forces,backed by helicopters,fired tear gas in a crackdown on protesters on Wednesday,clearing hundreds from a camp that had become the symbol of an uprising by the islands Shia Muslim majority.
Hospital sources said three policemen and two protesters were killed in the assault that began a day after Bahrain declared martial law to quell worsening sectarian unrest that has sucked in troops from fellow Sunni-ruled neighbour Saudi Arabia.
But a defiant youth movement,which had been leading the Bahraini protests,called for a mass demonstration from all Manama suburbs towards Budaya Street in the north of the capital.Earlier a Bahraini defence official warned Bahrainis not to gather in public, saying it was for public safety.
An MP from the largest Shia Muslim opposition group denounced the government assault as a declaration of war on the Shia community.This is war of annihilation.This does not happen even in wars and this is not acceptable, Abdel Jalil Khalil said. TOI
This error message is only visible to WordPress admins
Error: No connected account.
Please go to the Instagram Feed settings page to connect an account.