Jumblatt: Returning to dialogue is a must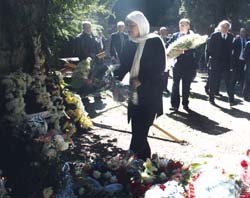 Addressing a gathering at his residence in Mukhtara on Wednesday March 16 the day that marks the 34th anniversary of the assassination of his father, MP Walid Jumblatt said:
"Despite tension in the country, returning to dialogue is a must, along with protecting gains, sacrifices and principles for the sake of an Arab nationalist Lebanon that confronts Israel."
Kamal Jumblatt ,   the founder of the progressive socialist Party ( PSP) was assassinated near Baakleen Shouf on March 16, 1977, along with his 2 bodyguards Fawzi Shedid and Hafez Ghseini .
In June 2005, former secretary general of the Lebanese Communist Party George Hawi claimed in an interview with al Jazeera, that Rifaat al-Assad, brother of Hafez al Assad and uncle of Syria's current President Bashar al-Assad, had been behind the killing of Jumblatt. It is widely believed in Lebanon that Syria was also behind Hawi's death in a car bomb, some days later.
MP Bahia Hariri ( pictured above), sister of the late Lebanese premier Rafik Hariri and former Tripoli MP Mosbah Ahdab, 2 key members of March 14's alliance attended the commemoration and held talks with Jumblatt.
"This visit is to take part in marking martyr Kamal Jumblatt's assassination ," Hariri told reporters .
As Safir reported late Wednesday that Jumblatt is planning to visit Syria on Thursday to meet with General Mohammad Nassif ( Abu Wael) , who is closely associated with president Bashar al Assad to discus the situation in Lebanon and the region.