The Cedar Revolution is alive and well, pictures
"March 14th may have been bloodied and bruised but Sunday's rally showed that the Lebanese have not giving up on hope that one day Lebanon will be free "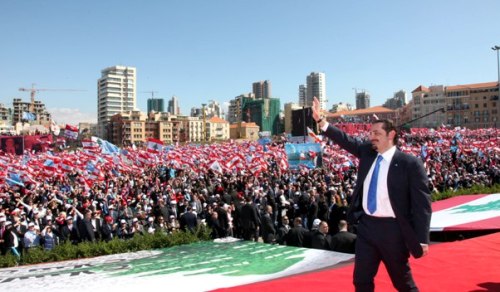 Lebanon's Cedar Revolution, the popular uprising in 2005 that ended three decades of Syrian military occupation and brought March 14th coalition to power was written off by many , but it appears that Sunday March 13th rally is proving that the revolution which inspired the recent uprisings in the middle east is alive and well.
The theme at Sunday's rally is simple: We want one state …one army to defend the country
lets unite the country and get rid of all the other states and armies .
More than one million Lebanese of all faiths… Christians. Druze , Muslim Shiites and Sunnis demanded Hezbollah be disarmed as they rallied to mark the sixth anniversary the Cedar Revolution uprising, International news agencies reported
"It is impossible that any of us here accept tutelage over Lebanon again, whether foreign domination or the domination of arms within Lebanon working for foreign interests," said outgoing prime minister Saad Hariri, in reference to the arms of the Iranian and Syrian -backed Hezbollah militant group.
"It is impossible to accept that these weapons … continue to be turned against the democratic will of the people," said Hariri, son of former premier Rafik Hariri whose 2005 assassination sparked the Cedar Revolution uprising that led to the withdrawal of the Syrians.
"It is impossible for the arms to be used as toys thrown at our kids and for weapons to be raised against people longing for democracy," Hariri said.
"It is impossible to give up the truth, justice and Lebanon," he added. "We won't give up our freedom and we will defend our democracy and constitution." Hariri said.
"You know very well there was nothing impossible to achieve since Rafik Hariri was killed and since the day we met six years ago with the same Lebanese flags," Hariri told the March 14 supporters at the square.
"All we are asking for is a country in which there is a single strong army that confronts Israel," he said. "We are not asking for a country in which there is a military outside (the control of) the army … and a military that from time to time turns its weapons against the Lebanese." He said
"We demand a state where nobody else carries arms," Hariri said . "We demand a state which has one sole army standing in the face of Israel."
Hariri assured the crowds : "Lebanon and our dreams do not die. We will achieve our objectives."
The rally this year comes after Hezbollah's military might was blamed for the collapse of the government . Hezbollah brought down Hariri's government on January 12 over the Special Tribunal for Lebanon's (STL) imminent indictment which is widely expected to implicate Hezbollah members in the assassination of former PM Rafik Hariri in 2005
"We say no to the exploitation of Lebanon for the benefit of Iran," in reference to Hezbollah's main backer, said Lebanese Forces party leader Samir Geagea at the rally.
"We will not accept that the Lebanese economy continue to be paralyzed… nor that our history be distorted," Geagea said
"All that Hezbollah cares about now is the Special Tribunal for Lebanon (STL). It forgot Israel. It forgot about Kfarshouba and the Shebaa Farms," former Lebanese president and current Phalange party leader Amin Gemayel said at the rally in reference to the Lebanese territories that are still occupied by Israel.
"Lebanese unity and stability cannot be achieved unless illegitimate arms are removed." Gemayel stressed and added: "We are addressing this issue to save Lebanon and build the state."
One observer at the rally told Ya Libnan: "March 14th may have been bloodied and bruised but today's rally showed that the Lebanese have not giving up on hope that one day Lebanon will be free "