US backs Arab League's call for Libya no-fly zone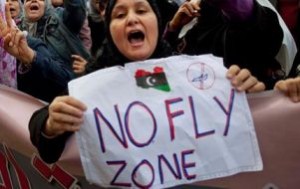 The United States backed a call by the Arab League for a United Nations no-fly zone over Libya, as government troops backed by warplanes fought to drive rebels from remaining strongholds in western Libya.
Arab League Secretary General Amr Moussa said the League, meeting in Cairo on Saturday, had decided that "serious crimes and great violations" committed by the government of Muammar Gaddafi against his people had stripped it of legitimacy.
Washington, which would play a leading role in enforcing any no-fly zone, called the declaration an "important step"; but it stopped short of commitment to any military action and made no proposal for a swift meeting of the U.N. Security Council.
It was not clear if the League's call for a no-fly zone would provide the unequivocal regional endorsement NATO required for military action to curb Gaddafi.
Diplomats in New York said they could not rule out a weekend meeting of the U.N. Security Council to vote on the issue, but added it was unlikely.
On the ground, Gaddafi marshalled his forces to defy a tide of reform that has led to the overthrow of autocratic rulers in Tunisia and Egypt and unprecedented protest elsewhere.
However, a mutiny slowed the advance of a crack Libyan brigade commanded by Gaddafi's son Khamis as it advanced on Misrata, with 32 soldiers joining the rebels holding the city, a rebel there said. He said one defector was a general. Rebel spokesman Gamal added that the brigade, stalled about 10-15 km south of the city, broke out in a fire fight after dozens of troops balked at the idea of killing innocent civilians in the impending attack.
The events could not be confirmed independently. Journalists have been prevented from reaching the city by the authorities.
Earlier on Saturday, the feared 32nd Brigade tried but failed to take Misrata, the last major rebel holdout in western Libya.
ZAWIYAH SCENARIO
Mussa Ibrahim, a government spokesman in Tripoli, could neither confirm nor deny a military operation was under way in Misrata.
"There is a hard core of al Qaeda fighters there," he said. "It looks like a Zawiyah scenario. Some people will give up, some will disappear … Tribal leaders are talking to them. Those who stay behind, we will deal with them accordingly."
It took a week of repeated assaults by government troops, backed by tanks and air power, to crush the uprising in Zawiyah, a much smaller town 50 km (30 miles) west of Tripoli.
The death toll in Zawiyah was unknown but much of the town was destroyed, with buildings around the main square showing gaping holes blown by tank rounds and rockets. Gaddafi's forces bulldozed a cemetery where rebel fighters had been buried.
The rebels in Misrata were heavily outgunned.
"We are bracing for a massacre," said Mohammad Ahmed, a rebel fighter. "We know it will happen and Misrata will be like Zawiyah, but we believe in God. We do not have the capabilities to fight Gaddafi and his forces. They have tanks and heavy weapons and we have our belief and trust in God."
Further east, Gaddafi's troops pushed insurgents out of Ras Lanuf, a day after making an amphibious assault on the oil port and pitting tanks and planes against rebels armed with light weapons and machineguns mounted on pick-up trucks.
Dozens of soldiers waved posters of Gaddafi and painted over rebel graffiti at a deserted housing complex for oil industry workers as foreign journalists arrived from Tripoli on a government-run visit to the recaptured city.
Smoke billowed from an oil storage facility near the refinery east of the town. Local officials brought to meet the media party said the retreating rebels had bombed it.
Libya's flat desert terrain favours the use of heavy armour and air power. The Libyan army is also better trained and more disciplined than the rag-tag, though enthusiastic, rebel force.
ALL CONTINGENCIES
Moussa told a news conference after the Arab League meeting in Cairo talks: "The Arab League has officially requested the U.N. Security Council to impose a no-fly zone against any military action against the Libyan people."
It was not immediately clear how Russia and China, who have veto rights in the Security Council and have publicly opposed a no-fly zone, would react.
The White House responded by welcoming League decision, calling it and "important step" and saying it was preparing for all contingencies.
"The international community is unified in sending a clear message that the violence in Libya must stop, and that the Gaddafi regime must be held accountable," it said.
Britain, in the forefront of states advocating preparation for a possible no-fly zone, welcomed the Arab League appeal as significant, but not enough by itself to trigger action.
"We've said all along that one of the conditions for a no-fly zone must be broad support in the region," Foreign Secretary William Hague told BBC television.
"Clearly this is one indicator that there is broad support in that region," he said. "It's not the only condition, it's also necessary to have even broader international support and it's also necessary for it to be clearly legal."
The terms of any no-fly zone would have to be agreed carefully and time may be working against the rebels. Its aim would be to stop Gaddafi using his air force in attacking rebel forces and civilians, transport and reconnaissance