Al Qaeda commander calls for Islamic rule in Libya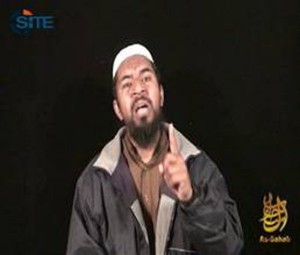 A top Libyan al Qaeda commander has urged his countrymen to overthrow Col. Moammar Gadhafi's regime and establish Islamic rule, expanding the terror network's attempts to capitalize on the wave of unrest sweeping the region.
Abu Yahia al-Libi, al Qaeda's Afghanistan commander, said in a video posted on a militant website that after the fall of the regimes in Tunisia and Egypt, it is now Col. Gadhafi's turn, as rebel fighters there press a nearly monthlong campaign to oust him.
Those nation's autocratic governments — enemies of Islamic militants — practiced "the worst kind of oppression" with the backing of the West and failed to heed the lessons of history, he said.
"Now it is the turn of Gadhafi after he made the people of Libya suffer for more than 40 years," he said, adding that it would bring shame to the Libyan people if the strongman were allowed to die a peaceful death.
A transcript of the video was provided Sunday by SITE Intelligence Group, a U.S. organization that monitors militant messages.
Col. Gadhafi has accused al Qaeda of being behind the movement seeking to end his more than 40-year rule, though the rebels have no known links to the terrorist organization. The uprisings in Egypt and Tunisia similarly were driven by widespread popular outrage at corruption, unemployment and limited outlets for political expression rather than Islamist fervor. Nevertheless, al Qaeda has tried to make gains on the tumult, also urging formation of an Islamic government in Egypt.
Libya'sCol. Gadhafi once was demonized for sponsoring various terrorist groups and attacks such as the 1988 Pan Am bombing over Lockerbie, Scotland. But in the late 1990s, the Libyan leader began efforts to emerge from international pariah status and stopped sheltering terrorists.
Col. Gadhafi also crushed his country's Muslim militants, including those who fought in Afghanistan alongside Osama bin Laden, and banned clergymen from expressing political opinions in their Friday sermons. Col. Gadhafi also has helped the United Staes track al Qaeda and other terrorist suspects in the region.
Since then, top al Qaeda figures routinely have targeted him in their video and audio recordings.
Al-Libi said ousting Western-backed Arab regimes was "a step to reach the goal of every Muslim, which is to make the word of Allah the highest" and establish Islamic rule.
WT