Major explosion at Japanese nuclear plant
Japanese television showed a major explosion at a nuclear power plant Saturday, a day after the country was rocked by a devastating earthquake.
NHK TV showed images of the explosion in the plant in Fukushima, about 160 miles northeast of Tokyo, and at least four workers were reported injured, the Tokyo Electric Power Co. said.
Nuclear officials said some radioactive material had been leaked, and government spokesman Yukio Edano told a news conference all residents who live in a 7-mile radius of the two reactors should evacuate, the Kyodo News agency said.
Prime Minister Naoto Kan declared a state of emergency in the area, the BBC said.
Kyodo said the roof and the walls of the building housing the reactor collapsed around 3:36 p.m. after a large tremor on the heels of Friday's massive 8.9-magnitude earthquake.
All of Japan's nuclear plants were shut down when the quake hit, although there was concern Saturday's damage could lead to a core meltdown that would release clouds of radioactive steam into the atmosphere, officials said.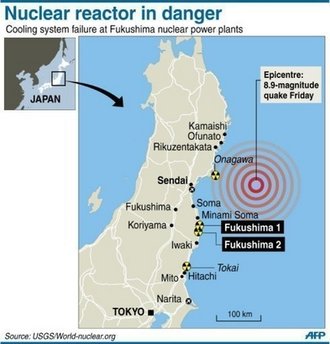 Friday's earthquake also triggered a tsunami that reached as far as northwestern Canada.
Japanese officials say at least 600 people were killed, although hundreds remained unaccounted for Saturday.UPI