Lebanon government soon after a deal on interior ministry, report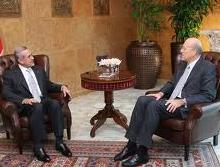 Lebanon PM-designate Nagib Mikati and President Suleiman held a meeting at the Baabda presidential Palace to discuss the latest developments over the government formation
Following the meeting Mikati left the Baabda Palace without making any statement.
According to local reports Mikati could announce the cabinet line-up soon following a deal on the controversial interior ministry portfolio.
Sources following ongoing consultations to form the government told An Nahar newspaper that Mikati has overcome several obstacles and could announce the cabinet line-up at the end of next week.
Mikati's circles told As Safir newspaper that the countdown for the formation of the cabinet would start at the beginning of next week because Mikati will intensify contacts with all leading political factions.
He would most probably hold a meeting with Free Patriotic Movement leader Michel Aoun.
A source close to Mikati said an agreement was reached on not diminishing the role of President Michel Suleiman, or that of the prime minister-designate. The informal deal also respects Aoun's demands for Christian representation
FPM sources confirmed that contacts have taken place in the past few days between top officials from Hezbollah and Aoun's bloc to resolve the dispute over the interior ministry portfolio, by granting it to a figure who is acceptable to Aoun, and not opposed by Suleiman, along with granting the FPM leader a number of portfolios that matched his representative weight in parliament.
The dispute between Aoun and Suleiman on the interior ministry portfolio was one of the major obstacles hindering the government formation process, according to media reports
Former Minister Naji Boustani, and retired army brigadiers Michel Harrouq and Fares Soufia are reportedly some of the favorites for the ministry
Suleiman hopeful
President Michel Suleiman voiced hope on Friday that Lebanon will overcome the obstacles hindering the formation of a new Lebanese cabinet.
According to a statement issued by his office, Suleiman called on all parties "to raise their awareness" and to "tone down their political rhetoric."
The president also voiced the need to maintain security in the country in order to have a stable economy.
The Iranian- and Syrian-backed Hezbollah brought down PM Saad Hariri's government on January 12 over the Special Tribunal for Lebanon's (STL) imminent indictment which is widely expected to implicate Hezbollah members in the assassination of former PM Rafik Hariri in 2005
Prime Minister-designate Najib Mikati was appointed in January with the March 8 coalition's backing following the collapse of Saad Hariri's unity government. March 14 figures have repeatedly said that intimidation from Hezbollah's weapons helped secure the parliamentary majority for his nomination.
March 14 parties have announced that they will not take part in the cabinet Mikati is currently forming, and Hariri vowed last week to fight the use of non-state weapons "peacefully and democratically."