UN envoy hopes Lebanon's new government will soon be formed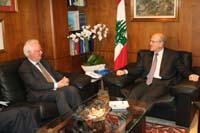 United Nations Special Coordinator for Lebanon Michael Williams on Thursday said that he hoped the country's new government will soon be formed, according to a statement issued by his office.
When meeting with Lebanese Prime Minister-designate Najib Mikati, Williams said that in the near future Mikati will be able to form a government, which will be able to meet the challenges that Lebanon faces and its international obligations.
"We also discussed the question of the National Dialogue, which I believe has been a very important mechanism in the past under the chairmanship of President [Michel] Sleiman," Williams added.
"We hope that the president can continue in his endeavors in chairing a body like that. It could be an important forum for discussing many issues including that of a national defense strategy," Williams said.
The Hezbollah-nominated Mikati was appointed as prime minister- designate on Jan. 25 following the collapse of Saad Hariri's unity government due to the long-time stalemate on the issue of 2005 assassination of former Prime Minister Rafic Hariri who is Saad Hariri's father.
The western-backed March 14 Alliance announced that it will not take part in a government headed by Mikati. Xinhua