March 14 calls for ending tutelage of non-state arms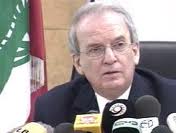 MP Marwan Hamade announced his endorsement of the March 14's political document on Thursday , which calls for building a strong sovereign state that ends the tutelage of non-state arms.
"The pro-independence movement had extended its hand to the other camp in a bid to bring everyone under the State's wings, but the other parties, mainly Hezbollah, staged their coup after refusing to acknowledge the end of Syria's tutelage," he said
"They suspended the presidency, closed the doors of parliament and took over Beirut, crippling Lebanon's political system." he added in reference to March 8 alliance
Hamaded accused the Hezbollah-led March 8 alliance of trying to impose a theory "suggesting that Lebanon is an open battleground and that Hezbollah's arms are superior to freedom, independence, prosperity, law and justice.
Hamadeh who reiterated March 14's commitment to defending justice accused March 8 of seeking to cripple justice by obstructing the establishment of the Special Tribunal for Lebanon (STL).
"The heresy that Lebanon is protected by one party or one category must end," he said added during a press conference following the alliance's meeting at the Bristol Hotel in Beirut.
Hamadeh warned that Lebanon faces the danger of being dragged into a foreign axis, a reference to Iran and Syria, "during a time when the Arab world is moving away from its isolation."
"We call on the Lebanese people to face the attempt to harm Lebanon and undermine the concept of its existence."
The MP accused March 8 of rejecting the results of the 2005 parliamentary elections, obstructing previous cabinets' work and falsely accusing March 14 figures of treason.
Hamadeh who used to be in the defunct Democratic Gathering bloc that was headed by Progressive Socialist Party (PSP) leader MP Walid Jumblatt voted for Hariri last January during the consultations over selecting a new PM to form and lead a new government .
Jumblatt attacked Hamadeh yesterday and described his rift with him as "complete and final."
The Iranian- and Syrian-backed Hezbollah brought down PM Saad Hariri's government on January 12 over the Special Tribunal for Lebanon's (STL) imminent indictment which is widely expected to implicate Hezbollah members in the assassination of former PM Rafik Hariri in 2005
Nagib Mikati, who was backed by Hezbollah and its March 8 allies including MP Walid Jumblatt and Mohammad Safadi, was appointed on January 25 by president Michel Suleiman as PM-designate to form and head the next cabinet , giving Hezbollah and its allies increased leverage in the country and provoking widespread protest.
Jumblatt and his PSP parliament members reportedly switched allegiance to Hezbollah's PM candidate, following threats by Hezbollah.
Jumblatt, Mikati and Safadi were all elected on March 14 electoral tickets during the 2009 parliamentary elections.
March 14 parties have said that they will not take part in the cabinet currently being formed by Mikati. Hariri vowed last week to fight the use of non-state weapons "peacefully and democratically."