Fatfat: Berri tried to abolish justice instead of defending it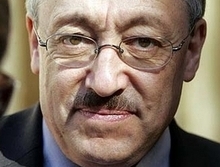 MP Ahmad Fatfat, a key member of Lebanon First bloc told Future TV on Thursday that Speaker Nabih Berri tried to abolish justice instead of defending it.
He added: "Some sides are trying to target the March 13 rally as they're sensing it will yield a large turnout. It's important that the people feel that they're facing a major challenge linked to the country's future and democracy."
Fatfat's comment come after Speaker Nabih Berri was quoted yesterday as saying during his weekly meeting with lawmakers at the parliament building on Wednesday that March 14 was frustrated over the collapse of Caretaker PM Saad Hariri's cabinet and was striving for power not justice for Hariri's assassination case.
Berri, who is a key member of the Hezbollah- led March 8 alliance has recently escalated his attacks against the March 14 alliance
The Iranian- and Syrian-backed Hezbollah brought down PM Saad Hariri's government on January 12 over the Special Tribunal for Lebanon's (STL) imminent indictment which is widely expected to implicate Hezbollah members in the assassination of former PM Rafik Hariri in 2005
Prime Minister-designate Najib Mikati was appointed in January with the March 8 coalition's backing following the collapse of Saad Hariri's unity government. March 14 figures have repeatedly said that intimidation from Hezbollah's weapons helped secure the parliamentary majority for his nomination.
March 14 parties have also announced that they will not take part in the cabinet Mikati is currently forming, and Hariri vowed last week to fight the use of non-state weapons "peacefully and democratically."