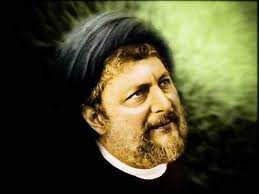 "The information we have confirms that he is alive and in jail in Libya," Houra al-Sadr said in a phone interview late on Wednesday in Tehran. That information is "more reliable" than other accounts stating he was killed at the orders of Libyan leader Muammar Kaddafi, she said.
Houra al-Sadr, 48, declined to cite documents or say who she had been in touch with about her father's fate, citing the "sensitivity" of the case.
Moussa al-Sadr, chairman of Lebanon's Shiite Islamic Council, disappeared during a visit to Libya in August 1978 along with two of his aides. Libyan officials have said that al- Sadr left the country for Italy, while Italian authorities denied it. Speculation over the Iranian-born cleric's fate has revived in the past month as Libya descended into civil war and officials defected from Kaddafi's regime.
The disappearance of al-Sadr, who had helped mobilise Lebanon's Shiite Muslim population by pressing for better social and economic conditions, strained relations between Libya and Lebanon. A Beirut court in 2008 summoned Kaddafi to answer questions about the case. Lebanon's Shiite population and their most powerful political movement, Hizbollah, are backed by Iran.
Major Abdel Moneim al-Houni, a former member of Libya's revolutionary command council who resigned as the country's ambassador to the Arab League last month, said al-Sadr was killed by the Kaddafi regime. Al-Houni told the Saudi-owned Al-Hayat newspaper last month that al-Sadr was buried in the Sabha region in southern Libya. Telegraph
This error message is only visible to WordPress admins
Error: No connected account.
Please go to the Instagram Feed settings page to connect an account.