UK Blasts Iran Over 'Taliban' Weapons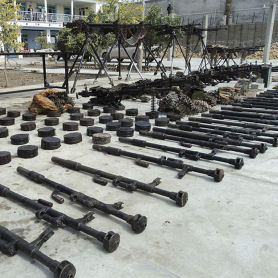 British Foreign Secretary William Hague has condemned Tehran's "completely unacceptable" behaviour after British Special Forces seized Iranian arms intended for the Taliban.
The rockets were recovered after a heavy firefight in which a number of insurgents were killed, according to a source.
They were identical to a haul found in Iraq in 2007, which also originated from Iran.
The identifying marks on the weapons – 48 122mm rockets and 1,000 rounds of 7.62mm ammunition – had been deliberately removed.
The Taliban have not had rockets of that range and deadly capability since 2007, when they were using up old Soviet weaponry, the source added.
"The operation that we conducted shows beyond doubt that they are supplied by elements of the Iranian regime," the source said.
"This does point to evidence that Iran is supporting the Taliban."
Mr Hague said the technical analysis and circumstances of the seizure left him in "no doubt" that the weapons were from Iran.
He said: "I am extremely concerned by the latest evidence that Iran continues to supply the Taliban with weaponry – weapons clearly intended to provide the Taliban with the capability to kill Afghan and Isaf soldiers from significant range."
He said the British Ambassador in Tehran had raised the issue with the Iranian Ministry of Foreign Affairs, adding: "I call on Iran to act in the interests of a stable and secure region."
Mark Sedwill, a senior civilian Nato representative to Afghanistan, said: "These rockets represent a step-change in the lethal impact of weaponry infiltrating Afghanistan from Iran.
"All Afghanistan's neighbours have an obligation to prevent weapons from reaching the insurgents who will use them to kill Afghan civilians as well as Afghan and international forces."