Guide to Protests In Middle East, North Africa
Unrest has swept across the Middle East and North Africa, sparked by an uprising in Tunisia that led to the ouster of the country's ruler. Here's a look at the countries where protests have sprung up.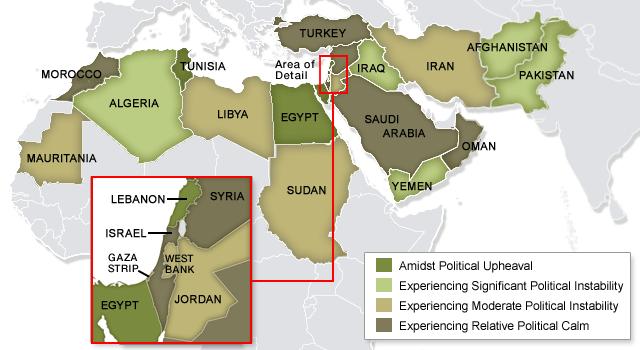 Algeria
After 19 years, the government officially lifted a state of emergency in February following strikes and protests. But protest marches, which were not allowed under the state of emergency, continue to be banned in the capital, Algiers. Some viewed the move as a "ruse" to placate protesters, who continued to turn out despite large numbers of police.
Bahrain
After a violent crackdown on protesters in the capital, Manama, that killed several people, the crown prince in February called for a national dialogue between the Sunni-led government and the mostly Shiite protesters. Demonstrators have been reluctant to take up the government's offer without more concessions. But opposition groups announced in early March that they are ready to talk — as long as the prince's words are backed with actions. No date has been set for them to meet, and protesters continue to stage daily marches, with some calling for the ouster of the monarchy.
Egypt
Protesters took to Egypt's streets in January, demanding the ouster of President Hosni Mubarak after three decades of rule. Mubarak supporters clashed with demonstrators in Tahrir Square, which became the focal point of protests in the capital, Cairo. More than 300 protesters were killed in the uprising. Although Mubarak pledged not to run again, fired his government and appointed a vice president for the first time in his three decades of rule, the protests intensified until Vice President Omar Suleiman announced that the president had handed over power to the military.
Protesters have continued to demand that the military rulers carry out reforms. In early March, one of their demands was met when Ahmed Shafiq — whom Mubarak appointed as prime minister amid the protests — resigned. A referendum on constitutional changes that are intended to ensure competitive elections will take place March 19. Amid the ongoing tensions, clashes have broken out between Muslims and Christians, killing more than a dozen people.
Iran
Tens of thousands of demonstrators turned out Feb. 14 for the biggest protests the country had seen since the aftermath of the disputed re-election of President Mahmoud Ahmadinejad in 2009. After clashes between security forces and the protesters, hard-line lawmakers called for opposition leaders to be put on trial and put to death. On March 1, protesters rallied in Tehran to demand the release of opposition leaders Mir Hossein Mousavi and Mahdi Karroubi, who supporters say have been moved from house arrest to prison. Riot police used tear gas and batons to break up the demonstrations, according to witnesses and opposition websites.
Iraq
Small, scattered protests, focusing on unemployment, corruption and a lack of services, began taking place in Iraq in early February. Protests intensified in the city of Sulaimaniyah — where demonstrators oppose the leaders of Kurdistan, the semiautonomous region in northern Iraq — and in Basra, where the governor resigned. A nationwide "Day of Rage" called for Feb. 25 turned violent in Mosul and other cities, leading to the deaths of more than a dozen protesters. Thousands again turned out in Baghdad and other cities on March 4 for protests that were mostly peaceful, though police used water cannons against protesters in Basra. A crackdown on journalists and activists has raised concerns about civil liberties under the U.S.-backed democratic government.
Jordan
Protesters have been gathering on Fridays to demand more of a voice in government — some want the power to elect their prime minister and Cabinet officials. King Abdullah II fired his Cabinet in February and appointed a new prime minister, tasked with carrying out reforms. In early March, hundreds of Salafis — an ultraconservative Muslim group banned in Jordan — staged protests in Amman to demand the release of prisoners.
Kuwait
More than 1,000 protesters turned out in Kuwait City on March 8 to call for political changes — including a new prime minister. No violence was reported, but police had blocked off a central square and forced protesters into a parking lot across from a government building.
Libya
Protests challenging leader Moammar Gadhafi led to a bloody crackdown in February. Hundreds and perhaps thousands have been killed. Rebels now largely control eastern Libya, including the city of Benghazi, where the anti-Gadhafi uprising began Feb. 15. Amid clashes between opposition forces and troops loyal to Gadhafi, thousands have fled Libya, with many crossing borders into Egypt and Tunisia. Opposition representatives said March 8 they had received an offer to negotiate the terms of Gadhafi's departure. But they could not confirm the envoy was authorized by the regime and said they would not negotiate with the government in any case.
Morocco
On Feb. 20, demonstrations were called by a coalition of youth groups, labor unions and human rights organizations demanding greater democracy in the North African kingdom. Several thousand people marched through the capital, Rabat — one of several cities across the country where protests were held. Some trouble arose in the cities of Tangiers and Fez on Feb. 19, but overall, demonstrations were mostly peaceful.
Oman
Protests began in the seaside town of Sohar in late February, resulting in deadly clashes with police. Groups of protesters around the country have since pressed for economic and political reforms. Oman's ruler, Sultan Qaboos bin Said, has ordered 50,000 new jobs and a monthly stipend for the unemployed, and has reshuffled his Cabinet.
Tunisia
The unrest in this North African nation began in December, apparently after a 26-year-old man committed suicide when police confiscated the fruits and vegetables he was selling. Anger at a lack of employment and at a leadership viewed as corrupt exploded into demonstrations and clashes with police. A United Nations mission says at least 219 were killed in the weeks of protests. President Zine El Abidine Ben Ali fled to Saudi Arabia on Jan. 14. In late February, Mohamed Ghannouchi, who served as prime minister for 11 years, bowed to protesters' demands and resigned after clashes between demonstrators and riot police. The interim president, Fouad Mebazaa, has called for elections July 24 to pick representatives to write a new constitution.
Yemen
Yemen first saw protests in January, with more sustained demonstrations beginning in February. Demonstrators are calling for the ouster of President Ali Abdullah Saleh, who insists he will not step down before the end of his term in 2013. Several people have been killed in demonstrations. Amid widespread demonstrations in early March, about 2,000 inmates rioted at a prison in the capital, Sanaa, and army troops fired on protesters at a university. Saleh has called for a national dialogue, but an opposition leader said there would be no dialogue unless Saleh agreed to step down by year's end.