Libya dispatches emissaries to Egypt, Europe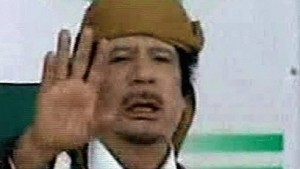 Libyan envoys are in talks with European Union officials in Brussels, the Belgian capital, and the Libyan deputy defence minister has arrived in the Egyptian capital, Cairo.
The officials were travelling from Tripoli on Wednesday on private jets belonging to Libyan leader Muammar Gaddafi.
There were reports that Deputy Defence Minister Abdelrahman al-Zawi was carrying a message from Gaddafi and was to meet with Amr Moussa, head of the Arab league.
The state-owned Al-Ahram newspaper said the official was to meet with the military council which is ruling Egypt.
Al Jazeera's Ayman Mohyeldin, in Cairo, said the private jet landed on a military airstrip around 1pm, carrying al-Zawi and an official.
"As soon as the plane landed, those on board … were immediately whisked away by private cars," he said.
He said Essam Sharaf, the Egyptian prime minister, had cut a cabinet meeting short to go to a meeting with the military council.
The Arab league is due to meet on Saturday to discuss the possibility of imposing a no-fly zone over Libya. Libyan delegates have been barred from attending the League's meetings addressing the situation in the country.
NATO and EU
Meanwhile, Franco Frattini, the Italian foreign minister, said officials were heading to Belgium.
"Two aircraft of the Libyan regime appear to have left Libya for Brussels with the intention of enabling emissaries of Gaddafi to meet representatives taking part in the meetings of the EU and NATO tomorrow and the next day," Frattini said.
"I don't know what will be said in Cairo, I don't know who will meet whom in Brussels but these movements are a fact that we have to take account of," he said.
Earlier, a Maltese official said Libyan emissaries had arrived on the Mediterranean island on Wednesday for talks with Maltese officials, and then flown to Portugal.