MP Saaded: Fear of Hezbollah behind Jumblatt's new stance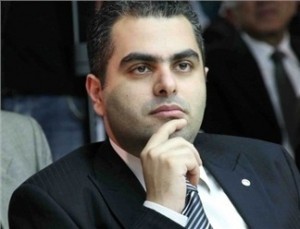 During an interview with New TV Phalange parliamentary bloc MP Samer Saadeh responded on Wednesday to Progressive Socialist Party leader MP Walid Jumblatt's accusation that March 14 is causing internal division, saying that Jumblatt's policies are directed by fear of Hezbollah.
Jumblatt said in an interview with al-Akhbar published on Wednesday that "the incitements of the March 14 coalition are leading towards internal division targeting a whole sect."
"The day of rage in Tripoli was a big mistake in March 14's history but outgoing Prime Minister Saad Hariri intervened and it stopped," Saadeh said
"The army-people-resistance formula proved its failure," Saadeh added.
The Phalange MP also called for early parliamentary elections.
More in Jumblatt's interview
Jumblatt also criticized the outgoing premier in his interview
"Caretaker Prime Minister Saad Hariri is not like his father, former Prime Minister Rafik Hariri, he said.
The senior Hariri "was a unique and approachable individual. No ties bind me to him except his memory," Jumblatt continued.
"How can the issue of the arms possession be resolved without the least amount of calm in the country? What does Hariri want? Break Prime Minister-designate Najib Miqati and the economy and then what?" he asked.
He accused the Future movement of seeking to turn the Druze community against him.
He also accused his former ally MP Marwan Hamadeh of employing the same sectarian incitement, describing his rift with him as "complete and final."
Jumblatt tried to justify his recent stance by saying: "After my departure from March 14 on Aug 2, (2009) and after meeting with Syrian president Bashar al Assad and Hezbollah chief Sayyed Hassan Nasrallah I had to stand by March 8…I told this to the Saudis"
Jumblatt said that Saudi Arabia has severed its relations with him and blamed Hariri for it , but added " this is a summer passing cloud ..we are used to it "
Cedar revolution
March 14 marks the 6th anniversary of the Cedar revolution when over 1 million Lebanese gathered in down Beirut to protest against the murder of the the late PM Rafik Hariri and called on Syrian troops to leave Lebanon. The Syrian troops withdrew in April 2005, but the Syrian regime retained its influence through Hezbollah and its March 8 allies
The March 14 coalition is holding the rally on Sunday March 13 "to reaffirm its commitment to the principles of the Cedar Revolution" , according to a Future Movement statement
MP Mohammad al-Hajjar who used to be in the defunct Democratic Gathering bloc that was headed by Jumblatt told MTV on Tuesday that the PSP supporters were the first people to participate in the previous March 14 rallies. "I am sure that they will be present on Sunday," he said.
The Iranian- and Syrian-backed Hezbollah brought down PM Saad Hariri's government on January 12 over the Special Tribunal for Lebanon's (STL) imminent indictment which is widely expected to implicate Hezbollah members in the assassination of former PM Rafik Hariri in 2005
March 14 parties have said that they will not take part in the cabinet currently being formed by PM designate Nagib Mikati. Hariri vowed last week to fight the use of non-state weapons "peacefully and democratically."
Jumblatt rejected allegations that Syria is behind the delay in the government formation and accused the United States of being behind the current stalemate in Lebanon.
"They obstructed the Saudi-Syrian initiative and they are escalating their position through the March 14 forces' campaign of employing the indictment against the Resistance's arms, while in the past we sought hard to eliminate any of the indictment's possible negative repercussions," he noted in reference to STL